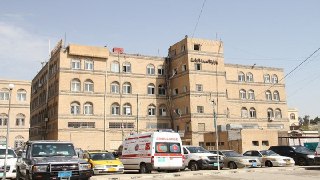 Health Ministry Holds UN Responsible for Continued US-Saudi Massacres in Yemen
YemenExtra
M.A.
Ministry of Public Health and Population held the UN and its Special Envoy responsible for all US-Saudi massacres against the Yemeni People including the latest, which the aggression targeted a school with an airstrike.
The ministry called on the international community to take serious action to bring the leaders of the US-Saudi aggression to the international courts, criticizing the lack of responsible actions to stop what is happening to the Yemeni People. In its fifth year the US-Saudi aggression is constantly killing civilians through its direct airstrikes and shelling. The siege is main cause of the increase in the spread of epidemics, which have killed thousands of Yemenis.
In a statement, the ministry condemned the crime by the US-Saudi aerial aggression, the targeting of Sawan residential area in Sana'a. It led to the death and injuring of 109 citizens, including 13 dead children, 95 people were injured, including 42 children and 20 women, most wounds are very serious.