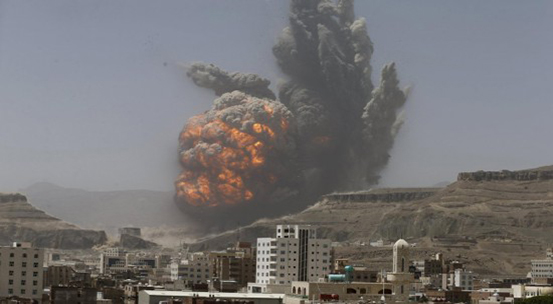 Saudi, UAE massively using French weaponry in killing Yemenis
YemenExtra
Y.A
 Saudi Arabia and the United Arab Emirate (UAE) are massively using French-made weaponry in the Saudi-led coalition, backed by the US, war on Yemen, a disturbing fact that contradicts public statements from Paris, according to classified document of the French government.

France, the third-biggest arms exporter in the world, provides to the Saudi Arabia and the UAE with a large various kinds of weapons .
The Disclose report, however, said according to the DRM note, which was provided to the government in October 2018, 48 CAESAR artillery guns, manufactured by the Nexter group, were being used along the Saudi-Yemen border by the Saudi-led coalition.The document, containing lists of French-manufactured weapons sold to both Saudi Arabia and the UAE, also revealed that Leclerc tanks, a main battle tank built by the Nexter and Mirage 2000-9 fighter jets sold in the 1990s to the UAE, have been used in the imposed war against Yemen.
The DRM military intelligence agency concluded saying that Cougar transport helicopters and the A330 MRTT refueling plane have been used in action, while two French ships are aidinf in the seige of Yemeni ports which has led tolack of food and medical items.
The classified note also contains a map estimating that French weapons have resulted in civilian casualties.French weapons have resulted in civilian casualties.
In March 2015, the US -backed –Saudi-led coalition started  a war against Yemen with the declared aim of crushing the Houthi Ansarullah movement, who had taken over from the staunch Riyadh ally and fugitive former president Abd Rabbuh Mansur Hadi, while also seeking to secure the Saudi border with its southern neighbor. Three years and over 600,000 dead and injured Yemeni people and  prevented the patients from travelling abroad for treatment and blocked the entry of medicine into the war-torn country, the war has yielded little to that effect.
Despite the coalition claims that it is bombing the positions of the Ansarullah fighters, Saudi bombers are flattening residential areas and civilian infrastructures.
However, Saudi Arabia relies heavily on the US in its brutal war on Yemen. Washington has deployed a commando force on the Arab kingdom's border with Yemen to help destroy arms belonging to Yemen's popular Houthi Ansarullah movement. Washington has also provided logistical support and aerial refueling.
#YemenCantWait #YemenGenocide #Yemen #Yemencantwait #YemenGenocide #Yemen_children #StoparmingEmirates #StoparmingSaudi #Stopthewaronyemen#LivingInYemenOnTheEdge#SoldarityWithThePeopleOfYemen