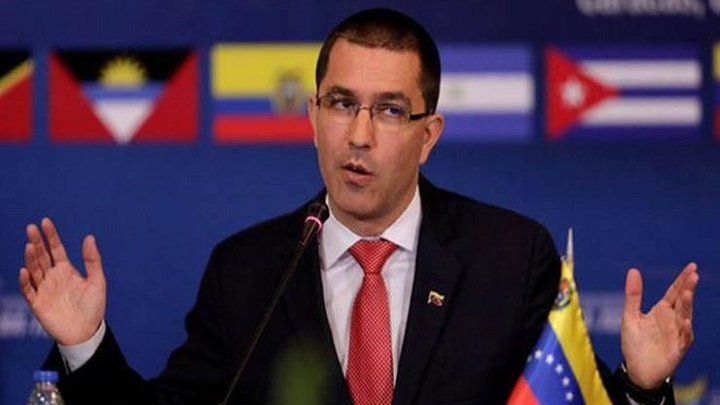 Venezuela: We Are Ready to Destroy Any Army, If US Chooses Military Action
YemenExtra
M.A.
Venezuela's Foreign Minister Jorge Arreaza stressed on Monday that Caracas is ready for any scenario but prefers diplomacy to solve the ongoing political crisis, and will retaliate if the United States chooses to take military action against the government of President Nicolas Maduro.
"We are prepared for any scenario… If [the US] prefers the military path, we are ready to resist — we have an army, police, our people, and we are ready to destroy any army, no matter how powerful it is", he said according to Sputnik , adding that Caracas has consistently called on Washington to resolve all issues through dialogue.
The comments by the Venezuelan foreign minister come shortly after opposition leader Juan Guaido confirmed that he is considering the possibility of international intervention after being asked if he would welcome a US military option to break the months-long political impasse.
An analyst warns about the "dangerous" repercussions of US attempts to topple Venezuelan President Nicolas Maduro, saying Washington could exhaust all means at its disposal to achieve that goal — including a false-flag murder plot targeting opposition leader Juan Guaido — and prevent another "humiliating defeat" in its regime change policy for the Latin American state.
In an interview with Press TV on Sunday, Jim W. Dean, managing editor of the Veterans Today, highlighted Washington's failure in its coup attempt against Maduro and said the US will face a "humiliating defeat" if it fails to bring the Venezuelan president down.
"This makes it very dangerous, because in the end they will get desperate to do it by any means possible and that means a big fat false flag," which could see Washington assassinate Guaido and point the finger at Maduro in an attempt to fabricate a pretext for a military intervention in Venezuela, said the analyst, citing media analysis.