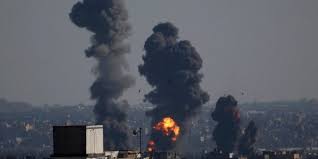 Palestine Reaches Ceasefire Agreement with the Zionist Entity
YemenExtra
M.A.
Palestine says a ceasefire agreement has been reached with Israel after 25 people were killed in three days of Israeli attacks on the besieged Gaza enclave, which were responded to with homemade rockets from Palestinian groups.
Palestinian officials said an Egyptian-mediated ceasefire agreement was reached with the Zionist Entity on Monday to end the recent surge of violence in the Gaza Strip.
Gaza's Health Ministry said at least 25 people have been killed and 154 others injured in the fresh flare-up of violence in Gaza. Two pregnant women and a 14-month-old baby were among the fatalities.
The upsurge in violence came after the Israeli prime minister ordered the military to continue massive strikes on the enclave. Benjamin Netanyahu also said Israeli forces around Gaza would be reinforced.