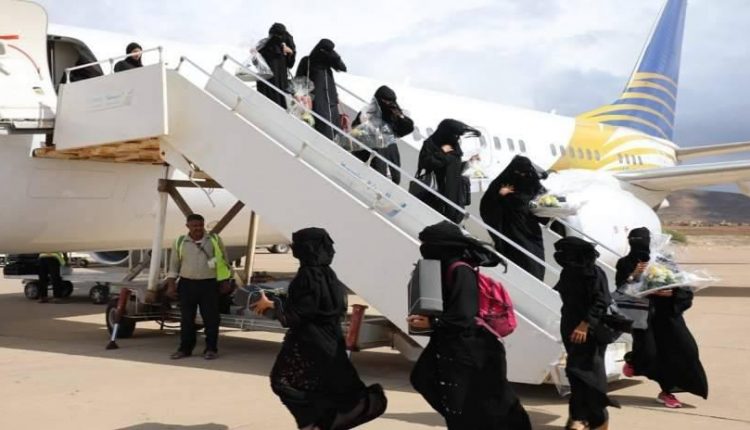 Photos reveal the return of a number of Emirates female soldiers of Socotra girls to the island , the security authorities warn
YemenExtra
Y.A
Photos showed girls at Socotra airport as they were coming off the plane and greeted at the reception hall after returning from the UAE.
Private sources told the YemenExtra that the girls left the island to the UAE under the pretext of being trained in security courses after they were attracted from the island of Socotra through coordinating by their local allies.
The site "YemenExtra" had earlier published the news that the UAE transferred dozens of Socotra girls to its territory, on the pretext that they are "employment", to recruit and hold military courses for them.
The UAE move comes amid warnings from local authorities on the island to the UAE of the gravity of the matter.
Nearly 100 women receive training as cadets at the Khawla Institute in Abu Dhabi, the first military force set up by Emirati women to return them to Socotra.
The source pointed out that the recent crisis that occurred after the landing of the UAE military forces at the airport and the port of Socotra in mid-2018, the size of the role of Abu Dhabi, but did not stop.
While security sources expressed concern that the UAE recruited women to implement other schemes similar to the women's networks, which were recently seized in the capital Sanaa, which shows its contact with UAE people, according to the documented confessions of the elements of the seized cells.
The sources warned the sons of the southern provinces of the consequences of the scheme of the UAE which aims to destroy the social unity and the consolidation of the degradation among the members of Yemeni society, stressing the people of Socotra island in particular and the southern provinces in general must see the results of documented investigations of those networks, which was circulated through the security media in the film, Red Lines, " "The documentary shown in Al-Masirah satellite channel.
In March 2015, the US -backed –Saudi-led coalition started  a war against Yemen with the declared aim of crushing the Houthi Ansarullah movement, who had taken over from the staunch Riyadh ally and fugitive former president Abd Rabbuh Mansur Hadi, while also seeking to secure the Saudi border with its southern neighbor. Three years and over 600,000 dead and injured Yemeni people and  prevented the patients from travelling abroad for treatment and blocked the entry of medicine into the war-torn country, the war has yielded little to that effect.
Despite the coalition claims that it is bombing the positions of the Ansarullah fighters, Saudi bombers are flattening residential areas and civilian infrastructures.
However, Saudi Arabia relies heavily on the US in its brutal war on Yemen. Washington has deployed a commando force on the Arab kingdom's border with Yemen to help destroy arms belonging to Yemen's popular Houthi Ansarullah movement. Washington has also provided logistical support and aerial refueling.
#YemenCantWait #YemenGenocide #Yemen #Yemencantwait #YemenGenocide #Yemen_children #StoparmingEmirates #StoparmingSaudi #Stopthewaronyemen#LivingInYemenOnTheEdge#SoldarityWithThePeopleOfYemen