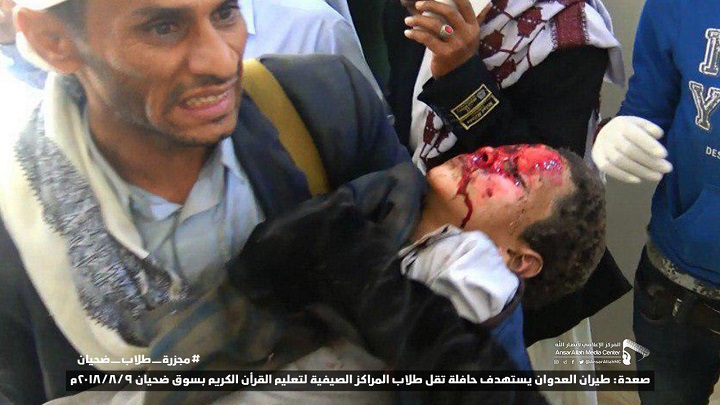 Yemen charges France of this over the war on Yemen!
YemenExtra
Y.A
Member of the Supreme Political Council, Mohammad Ali Al-Houthi, responded to French Foreign Minister Jean-Yves Le Drian's remarks on the strikes of the Yemeni army forces on Saudi military sites through claiming that Saudi Arabia was a victim of Yemeni airstrike that hit its airports without mentioning hundred thousands of raids that are launched by the coalition led by Saudi Arabia on the Yemeni civilians since 2015.
On Twitter, Mohammad Al-Houthi wrote midnight Sunday: "Did describing the war on Yemen as dirty by French Foreign Minister, in a previous television interview express his personal conviction? While his new statement to the media (today) express the official position of France? As it officially announced its participation in the US-Saudi coalition aggression and its allies in Yemen", adding that "The politician should not contradictory," . "Or did he change his mind for money? "
Britain, the US and France may be complicit in war crimes in Yemen by arming and providing support to a Saudi-led coalition that starves civilians as a war tactic, a Unaited Nations report has said.
A UN panel of experts has for the first time compiled a list of 160 military officers and politicians who could face war crimes charges, including from Saudi Arabia, the United Arab Emirates, the Houthi rebel movement and Yemeni government military forces. A secret list of those most likely to be complicit has been sent to the UN.
The UN report will very likely be used as further evidence for those demanding that the British government end arms sales to Saudi for use in Yemen.
Newly-released figures show that France increased its weapons sales to Saudi Arabia by 50 percent last year despite growing international concern about the atrocities committed in the coalition's war on Yemen.
An annual report by the French government showed that the country sold 1 billion euros' worth of arms to Saudi Arabia in 2018, with the main item being patrol boats.
Earlier this year, a French rights group sought to block the loading of what it said were munitions onto a Saudi Arabian ship docked in southern France, as pressure mounts on Paris to stop military sales to the kingdom.
ACAT said in a statement it had filed a legal challenge to prevent the vessel from taking delivery of its cargo.
Notably,French authorities have been searching for a government employee who they believe has leaked damaging information about France's role in the coalition's war on Yemen to the media, a report says.
Disclose, an independent investigative media, published on April 15 a devastating report exposing France's role in the Saudi-led coalition's war crimes in Yemen. The coalition has massacred thousands of civilians in operations using weapons supplied by France, Britain, the United States and other countries. Yet top French officials continued to deny this in public, issuing bald-faced lies contradicted by their own intelligence briefings.
Above all, Germany should ease its strict arms export rules for countries outside the European Union to strengthen the defence industry, French Economy Minister Bruno Le Maire said .
According to Reuters, France has complained that joint arms manufacturing projects are being stalled by Berlin's refusal to authorise future arms export licences to Saudi Arabia, a major buyer.
In March 2015, the US -backed –Saudi-led coalition started  a war against Yemen with the declared aim of crushing the Houthi Ansarullah movement, who had taken over from the staunch Riyadh ally and fugitive former president Abd Rabbuh Mansur Hadi, while also seeking to secure the Saudi border with its southern neighbor. Three years and over 600,000 dead and injured Yemeni people and  prevented the patients from travelling abroad for treatment and blocked the entry of medicine into the war-torn country, the war has yielded little to that effect.
Despite the coalition claims that it is bombing the positions of the Ansarullah fighters, Saudi bombers are flattening residential areas and civilian infrastructures.
More than 2,200 others have died of cholera, and the crisis has triggered what the United Nations has described as the world's worst humanitarian disaster.
#YemenCantWait #YemenGenocide #Yemen #Yemencantwait #YemenGenocide #Yemen_children #StoparmingEmirates #StoparmingSaudi #Stopthewaronyemen#LivingInYemenOnTheEdge#SoldarityWithThePeopleOfYemen