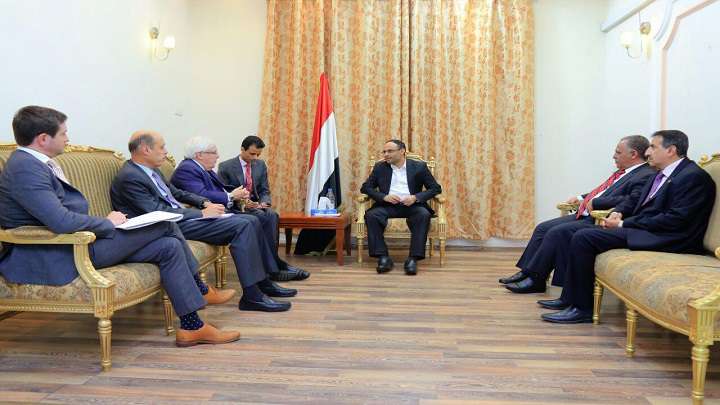 President Al-Mashat to UN-Envoy: We are Committed to Comprehensive Political Solution
YemenExtra
M.A.
President Mahdi Al-Mashat met with the Special Envoy of the UN Secretary-General to Yemen Martin Griffiths and his accompanying delegation on Tuesday evening.
President Al-Mashat affirmed Yemen's commitment to comprehensive peace through political solutions to end the suffering of the Yemeni People and restore stability to Yemen and the region. He pointed out that Yemen has presented many practical steps that confirm its seriousness to reach peaceful solutions starting with the implementation of more than 90 percent of its commitments to the Stockholm Agreement on Hodeidah several months ago, without any step from the other party.
Al-Mashat pointed out that the other party's position on peace did not exceed statements and without actions on the ground. He added that "when we launched the initiative, our goal was peace and in order to achieve it, we were decided to postpone many of the strategic operations that were prepared and planned, which are no less in size and impact than the Aramco strike. All to give the other party the opportunity to take up the peace initiative and to listen to the voice of reason and logic.'
"When we presented these peace initiatives, we wanted to raise the voice of peace, but if they do not listen to it, we have painful steps that will make them listen," he warned.
President Al-Mashat discussed to the situation of Sana'a Int. Airport under the US-Saudi closure and the suffering of the Yemeni People due to that, calling the United Nations to do its part to open the airport as a humanitarian issue.
He also pointed to the continuation of the siege imposed by the US-Saudi forces on the city of Ad-Durayhimi for more than a year, and the lack of serious interaction by the United Nations and the international community towards this humanitarian issue at a time when the population of the city dies of hunger and disease without allowing the introduction of a loaf of bread or a medicine box.
He reiterated that Yemen will continue to support the efforts of the UN-Envoy to lead to his success and meet the aspirations of the Yemeni People.
For his part, the Special Envoy of the Secretary-General of the United Nations to Yemen praised the initiative of President Al-Mashat and the release of hundreds of prisoners, considering that this represents a strong push towards peace. The UN envoy stressed that he will continue his moves to exploit the conditions conducive to achieve a comprehensive peace in Yemen.
This post originally ran on Almasirah English