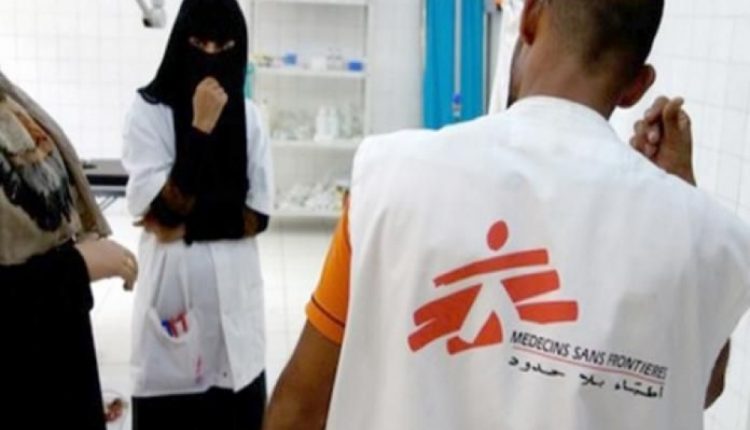 History of flagrant violations against MSF in Yemen
YemenExtra
Y.A
Médecins Sans Frontières (MSF) has suffered a successive wave of abuses while operating in Yemen. MSF has made may complaints about systematic targeting of its medical facilities and crews by Saudi-led coalition.
However, this did not prevent coalition forces from continuing to target the organization's facilities in a way that demonstrated the extent to which coalition states are challenging international and humanitarian law.
On October 2 of each Year, which is "the International day against Violence", the MSF took this occasion as a reminder for respecting the international law in Yemen, ensuring the protection of the patients, wounded, medical staff and medical facilities
MSF said in a tweet on Wednesday that its subsidized medical facilities in Yemen have been bombed six times in different areas since 2015, stressing that violence against medical staff and patients is unacceptable.
منذ عام 2015 تعرضت مرافق مدعومة من أطباء بلا حدود في اليمن للقصف ست مرات في مناطق مختلفة من البلاد. ندعو جميع الأطراف المتحاربة لاحترام القانون الدولي وضمان حماية المرضى والجرحى والطواقم الطبية والمرافق الطبية.#يوم_اللاعنف_العالمي pic.twitter.com/fUAvh5HVKU

— MSF Yemen (@msf_yemen) October 2, 2019
MSF confirmed that  that it is operating in Yemen in order to provide safe health care to Yemeni men, women and children in 10 provinces, noting that it provides medical care solely on the basis of medical need without discrimination.
In the following report, the Yemen Press Agency reviews the facts of the violations that MSF has suffered in Yemen since the beginning of the Saudi-led war on Yemen.
The first was in October 2015, when coalition aircraft targeted an MSF field hospital in Haydan area of Saada governorate.
Less than two months later, coalition aircraft targeted a mobile medical clinic in al-Hawban area of Taiz province in December 2015.
Coalition airstrikes also targeted an MSF ambulance in Saada governorate, killing seven MSF staff members and injuring others in January 2016.
The MSf-supervised Abs Rural Hospital in Hajjah province was directly bombed in August 2018.
In addition to the suspension of the organization's work in Aden province on August 31 2018, after militias stormed the hospital and kidnapped of one of the wounded was carried out in April this year.
The organization issued a statement protesting the serious violations against  its medical facilities in the city of Taiz during the conflict between coalition rival factions in March, during which health facilities were stormed and wounded were killed by rival militias.
Source:Website