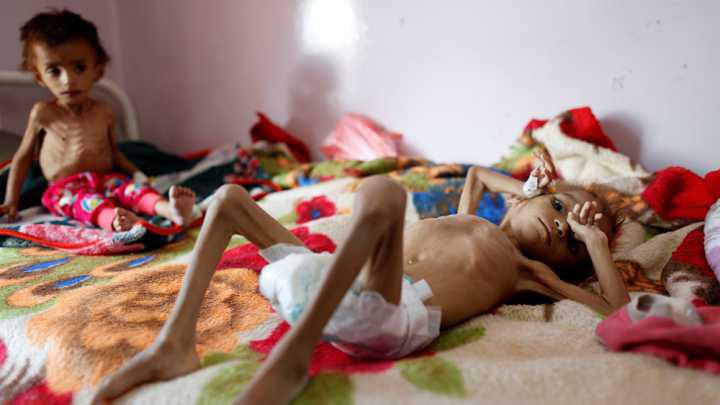 Who is in charge of diseases all over Yemen!
YemenExra
Y.A
The National Diabetes Center (NDC) on Tuesday launched a distress call to save 30,000 registered cases of the disease as a result of lack of resources and scarcity of drugs due to the aggression and siege.
The Center's Director Dr. Zayed Atef called on the International Diabetes Federation to provide emergency doses of insulin for diabetics, especially children.
He explained that the center receives 100 cases of diabetics, and is facing great pressure due to lack of potentials and scarcity of medicines, and that the closure of the Sanaa International Airport has caused the suffering of thousands of patients.
The World Health Organization (WHO) has received more than 78,000 disease reports in Yemen since the beginning of 2019. There are currently 1,991 surveillance sites that electronically monitor and report 28 deadly epidemic diseases such as cholera, dengue, viral haemorrhage, measles, whooping cough and polio.
"In an environment fraught with operational and security challenges, the expansion of the electronic system of disease's early warning in Yemen is an important achievement, as it aims to detect, report and respond to epidemic diseases quickly," the statement said.
The Ministry of Public Health and Population announced a state of high alert for all of its staff and medical staff after issuing a report on the epidemiological situation of dengue and malaria in Yemen for 2019. The Minister of Public Health and Population, Dr.Taha Al-Mutawakil, told Al-Masirah TV that the number of people infected with dengue and malaria epidemics is increasing in coastal and Tihama areas.
He added that "the number of people infected with malaria increased to nearly one million people, including seventeen people who died, and those infected with dengue fever has exceeded 36 thousand infected, including one hundred and forty-six people died."
In March 2015, the US -backed –Saudi-led coalition started  a war against Yemen with the declared aim of crushing the Houthi Ansarullah movement, who had taken over from the staunch Riyadh ally and fugitive former president Abd Rabbuh Mansur Hadi, while also seeking to secure the Saudi border with its southern neighbor. Three years and over 600,000 dead and injured Yemeni people and  prevented the patients from travelling abroad for treatment and blocked the entry of medicine into the war-torn country, the war has yielded little to that effect.
Despite the coalition claims that it is bombing the positions of the Ansarullah fighters, Saudi bombers are flattening residential areas and civilian infrastructures.
More than 2,200 others have died of cholera, and the crisis has triggered what the United Nations has described as the world's worst humanitarian disaster.
#YemenCantWait #YemenGenocide #Yemen #Yemencantwait #YemenGenocide #Yemen_children #StoparmingEmirates #StoparmingSaudi #Stopthewaronyemen#LivingInYemenOnTheEdge#SoldarityWithThePeopleOfYemen