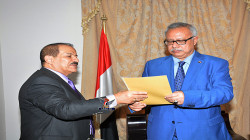 PM receives invitation to attend inauguration of Iranian President
YemenExtra
Prime Minister Dr. Abdulaziz Saleh bin Habtoor on Monday received an invitation from the Iranian side to attend the inauguration ceremony of the 18th President of the Islamic Republic of Iran, President-elect Ibrahim Raisi.
This came during his meeting today with the Minister of Foreign Affairs, Hisham Sharaf, who handed him the invitation.
The Foreign Minister presented to the Prime Minister a report on the good brotherly relations between Yemen and the Islamic Republic of Iran.
At the meeting, Sharaf also gave a comprehensive presentation to the Prime Minister on the overall political situation in the Arab region and on the international scene, including those related to follow-ups to the call to stop the US-Saudi aggression on Yemen.