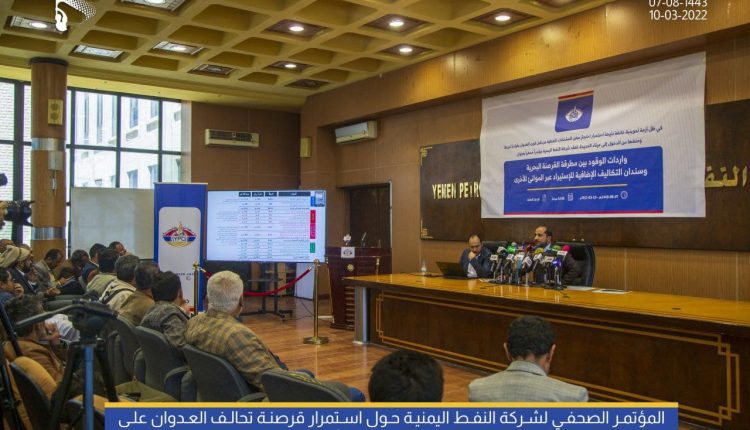 YPC reveals in numbers negative impact of US-British piracy on fuel ships
YemenExtra
Yemen Petroleum Company (YPC)'s Chief Executive Officer Ammar al-Adra'i has confirmed on Thursday that fuel ships are still being prevented from entering the port of Hodeidah due to the US-backed Saudi-led coalition piracy.
Al-Adra'i's remarks came during a press conference held by the YPC in the capital, Sana'a, about Saudi-led aggression's continued piracy on fuel ships and preventing them from entering the port of Hodeidah.
He explained that Great Britain and the United States of America are preventing fuel ships from reaching Yemen's Port and politically pressuring for military gains
Al-Adra'i indicated that in 2021, the US blockade intensified, and only five percent of Yemen's fuel needs were met.
"Obtaining fuel through the occupied ports costs about 50 percent more than what is imported through the port of Hodeidah," he added. He explained that the Yemeni people incurred six million dollars during 2021 as levies to obtain fuel through the land ports, which went to the pockets of Saudi mercenaries.
He pointed out that the fuel tanker travels a distance of 1,300 kilometers on a long road fraught with dangers, armed points and levies for Saudi mercenaries until it reaches the free areas of Yemen.
Al-Adra'i noted that more than 1.1 billion liters of fuel flowed through the land ports during 2021, due to the coalition tightening the policy of piracy of fuel ships.
He stressed that Yemeni citizen pays 6,300 Yemeni riyals per 20 liters of gasoline in additional costs that go to finance the mercenaries' pockets.