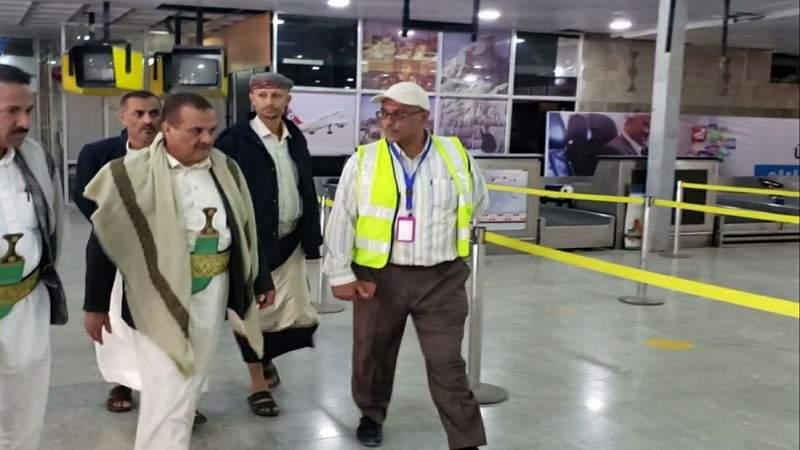 Transport Minister reaffirms Sana 'a Intel's Airport readiness to receive flights
YemenExtra
Minister of Transport, Abdulwahab Yahya Al-Durra, reaffirmed on Thursday the technical and professional operational readiness of Sana' a International Airport to receive all civil and commercial flights.
During his visit to Sana 'a Airport, the Minister of Transport, together with the Deputy Civil Aviation and Meteorological Authority, Raied Jabal, and the Director of Sana' a Airport Khalid Al-Shaif, praised the efforts of the leadership of the Civil Aviation Authority in maintaining the technical readiness of the Airport, and the development and modernization of its facilities in general, in accordance with international requirements, applicable at global airports and "ICAO".
Sana 'a airport provided air navigation services to United Nations aircraft, its affiliated organizations, and international humanitarian organizations operating in Yemen on a daily basis, with Yemeni cadres qualified by United Nations and international humanitarian personnel leaving and arriving at Sana' a airport.
"Sana 'a Airport is fully professional and impartial in its air navigation services and ground services to United Nations flights and humanitarian organizations." The airport receives six to seven UN flights and humanitarian organizations operating in Yemen on a daily basis.
The visit to the airport was seen by the Minister of Transport as a message to the world and the United Nations of Sana 'a's commitment to the 20-day humanitarian truce, which is supposed to operate on a daily basis without any restrictions or limitations, as a human right to travel from the nearest airports.
During the visit, Minister Al-Durra briefed on the readiness of passengers' lounges and the main runway for the landing and takeoff of aircraft and the readiness of ground services and facilities that provide air navigation services to ensure security and safety of passengers and aircraft.
Saba