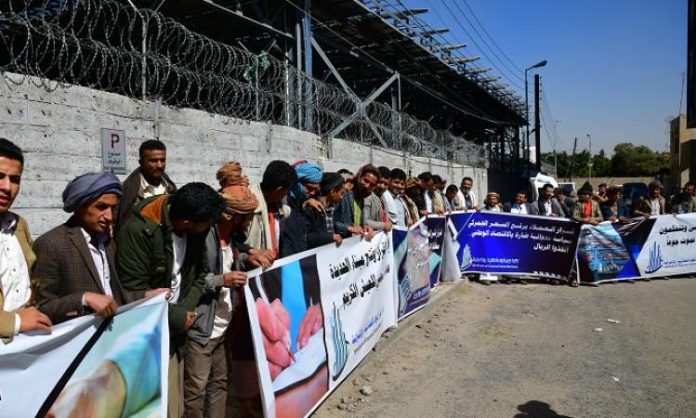 Merchants in Sana'a Protest near UN Building to Condemn Rising Costs as a Result of Exchange Rate Changes
General Association for Foodstuffs Merchants organized a vigil outside the United Nations headquarters in the capital, Sana'a, on Thursday, to denounce the decision to raise the US dollar exchange rate used to calculate customs duties
The merchants participating in the vigil denounced this decision by the government loyal to Saudi-led coalition, considering that it comes within the aggressive war and the economic blockade on the Yemeni people.
The participants, in a statement issued during the vigil, called on the United Nations and the international community to intervene urgently and put pressure to cancel this decision without delay, and open the port of Hodeidaا to facilitate the import and export process, in a way that alleviates the suffering of the Yemeni people.
The statement noted this decision's negative effects on society and the resulting imbalances in food supply, calling for stopping the obstacles imposed by the aggression coalition on various imports and goods arriving at the port of Hodeida, and renewed the demand to neutralize the national economy.
The statement also called on all merchants in all provinces to reject these decisions and not to deal with them.