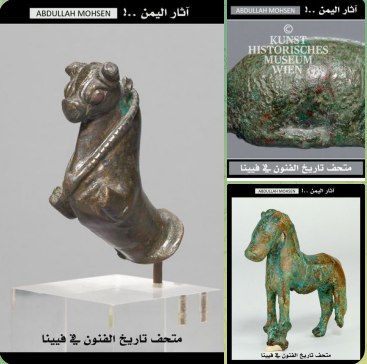 Activist Uncovers Stolen Yemeni Artifacts in Austrian Museum
A Yemeni activist and researcher specialized in tracing looted and stolen Yemeni antiquities, Abdullah Mohsen, revealed that three Yemeni ancient artifacts were shown at the Art History Museum in Vienna, Austria.
On his Facebook page, Mohsen said the three artifacts are the most important Yemeni ancient artifacts in Europe.
He noted that they included a statue of a mouse, a horse from the first century BC, in addition to a statue of a bull.
Yemeni antiquities have been looted, vandalized and smuggled out of the country, especially in the last years of war, according to a report by Al-Arabiya Flex.
Mohsen previously revealed that a rare Yemeni ancient masterpiece was sold at the "Robin and Ritchie" Fine Arts Auction in the US state of Florida for $500.
He pointed out that the pro-coalition government has not taken any practical steps to stop the auction, despite asking the Ministry of Culture and the Yemeni embassy in Washington to work to recover the masterpiece.
He explained that the auction described the masterpiece as an ancient stone artifact that is almost impossible to find in southern Arabia (from the first or second century AD).
The archaeology researcher revealed that numerous other Yemeni artifacts and antiquities have been sold in international auctions over the past years.
The sabotage and smuggling of antiquities is part of organized networks linked to leaders in the authority and government agencies, and some archaeologists, he said.
He stressed that one of the artifacts was sold by a smuggler in Yemen for a thousand dollars, while it was sold in an external auction for $80,000, dollars