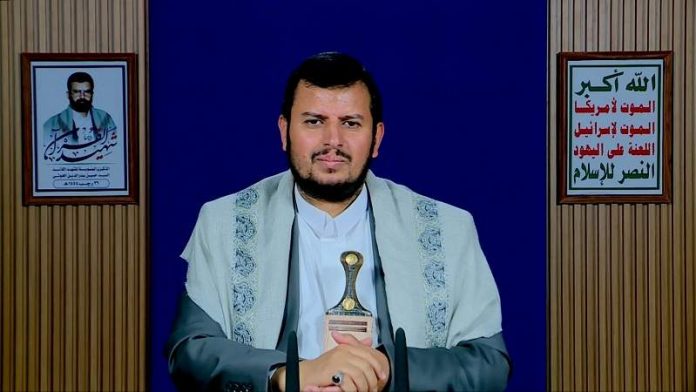 Sayyed Abdul-Malik Warns Countries Of Aggression: Our Patience will run out if you do not initiate serious, practical understanding in humanitarian issue
The leader of the Yemeni Revolution, Sayyed Abdul-Malik Al-Houthi, stressed that they are in a phase of war now, and it is only some military de-escalation that has been seen, warning and advising the countries of the Saudi-led coalition, saying: "Our patience will run out if you do not initiate serious and practical understanding in the humanitarian and living file."
This came during his speech delivered on Friday evening, on the occasion of the anniversary of the martyrdom of the leader, Sayyed Hussein Badr Al-Din Al-Houthi.
" We are in a state of continuous war, not in a truce agreement, there is a reduction in military operations under thankful Omani mediation," Sayyed Abdul-Malik said, expressing his thanks to the brothers in the Sultanate of Oman who engage with us as good neighbors.
"We appreciate their efforts and we seek to give them enough opportunity in the success of their efforts."
Sayyed Abdul-Malik reiterated that in all dialogues, they cannot ignore the humanitarian issue as a priority.
"Allowing negotiations and dialogues does not mean that we will continue negotiating indefinitely. Time is running out and we can return to pressing options to obtain the right of our people of their wealth," he added.
He continued: "One of the steps we are taking at the current stage is that we prevent plundering of the oil, its export abroad and theft of its price, and we succeeded, thanks to God, in that."
" The missile force hit oil faucets in Hadramout port in operation to prevent looting of oil wealth," he recalled .
"In any negotiations, we will not accept to compromise the achievements and gains of our people in freedom, independence and dignity, and these are red lines that we cannot give up," he stressed.
"Our freedom is a principle of our religion, and if they want peace, its path is clear, and its key is the humanitarian file and its goal is to end the aggression, siege and occupation."
Sayyed Abdul-Malik further stressed that the course of any dialogue or agreement must lead to the withdrawal of the occupation forces and prevent intervention in our internal affairs.
He warned the countries of the aggression saying: " Our patience will run out if you do not initiate serious, practical understanding in humanitarian issue."
Regarding the Palestinian cause, Sayyed Abdul-Malik said, "Palestinian People suffer from enemy's escalation and meet it with sacrifice, steadfastness, and martyrdom operations that disturb it."
He explained that the Israeli enemy is heading for building more settlements, confiscation of land, torture of prisoners and daily violations against Al-Aqsa Mosque.
"As Yemeni People, we must be ready for all possibilities in Palestine," he affirmed .
Regarding Turkey-Syria earthquake, Sayyed Abdul-Malik offered condolences to the Turkish and Syrian peoples for the victims of the earthquake, condemning the US blockade on Syria and the weak Arab and Islamic cooperation with it.
He pointed out that Arab and Islamic countries did not deal with Syria in a brotherly manner in the face of the earthquake, calling for the lifting of the US blockade on Syria.