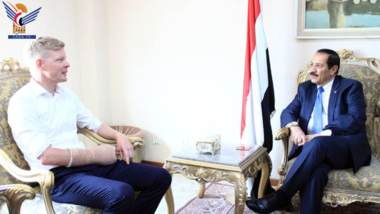 Sharaf: Sana'a Is With Just, Honorable Peace Of Yemeni People
Foreign Minister Hisham Sharaf on Wednesday discussed with Special Envoy of the Secretary-General of the United Nations to Yemen, Hans Grundberg developments in the peace process and lifting the suffering of the Yemeni people.
In the meeting, Minister Sharaf affirmed that the leadership in Sana'a, from the center of power supported by the people, extends its hand towards a just and honorable peace for the Yemeni people.
Minister of Foreign Affairs stressed the importance of the Security Council in sending positive messages to support the good offices towards achieving peace in Yemen to prepare the climate to reach a comprehensive and sustainable political settlement.
For his part, UN envoy Grundberg said that there is a great opportunity for a comprehensive cease-fire leading to a complete peaceful political settlement, stressing that the Yemeni people deserve all support after the suffering they have gone through.