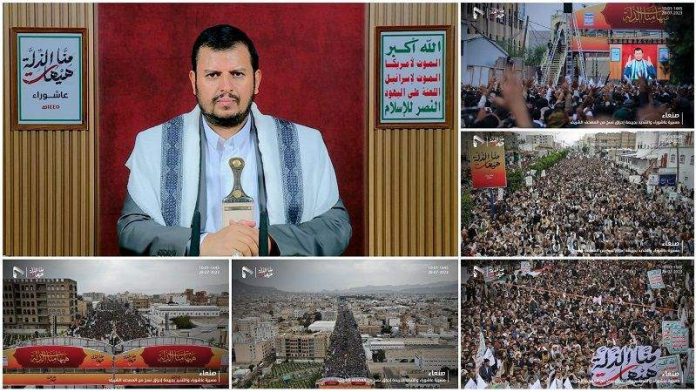 Sayyid Abdul-Malik al-Houthi Addresses The World On Ashura
The leader of Yemen's revolution, Sayyid Abdul-Malik Al-Houthi warned the US-Saudi aggression against continuing its plots aimed at dividing Yemen, calling on Yemeni people to be ready to continue confronting the aggression.
This came during his speech during mass rallies that were organised in Yemen to commemorate martyrdom of Imam Hussein, peace be upon him, the third Shia Imam and the grandson of Prophet Muhammad (Peace be upon Him).
"The tragedy of Karbala that occurred against the grandson of the Messenger of God was the most prominent manifestation of the great and dangerous deviation that brought the group of evil and tyranny from the Umayyads to power," he said.
Sayyed al-Houthi affirmed that "the Islamic nation in this era faces tyranny, evil and Yazid-style criminality represented by the Jewish lobby, the US and its allies," the Leader said, referring to the so-called Caliph Yazid who ordered the killing of Imam Hussein.
He explained that "the promotion of heinous immorality and homosexuality is the culmination of the path of the US and the West to deviate human societies to subjugate and enslave humans."
"What the Jewish lobby in Western countries is doing by burning and tearing up the Qur'an is the height of attack on Islam and Muslims," he added.
In the same regard, Sayyid Abdul-Malik al-Houthi called on the Islamic nation to take a firm and serious stance against the abuse of the Holy Qur'an.
He explained that "the simplest act that can be done is to sever diplomatic relations and economic boycott," warning by saying: "If the nation's position does not live up to this possible level, then it is a great dereliction towards the most important sanctity of Muslims."
Sayyid Abdul-Malik al-Houthi addressed Western societies, saying that the Jewish lobby is pushing them towards the abyss, calling on them to "liberate themselves from the slavery of the Jews, and return to the divine message."
Sayyid Abdul-Malik al-Houthi reaffirmed Yemen's principled stance towards the Palestinian cause and people, and continuous pursuit of cooperation and coordination with Palestine and the axis of jihad and resistance.
He pointed out that "what we hope for from cooperation with the axis of jihad and resistance is to achieve the desired goal of purifying Palestine and saving the Palestinian people."
At the end of his speech, the Leader called on the US-Saudi coalition to end the aggression, siege and occupation, to deal with the prisoners and reconstruction issue, and to desist from plots aimed at dividing Yemen.
He also called on the Yemeni people to "be ready to continue confronting the aggression in order to deter it and save the country from its evil."