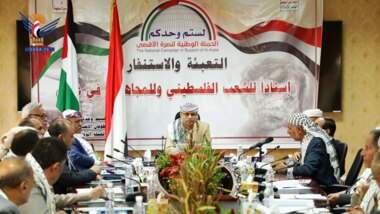 Al-Mashat Inaugurates Activities Of Supreme Committee Of National Campaign To Support Al-Aqsa
Mahdi Al-Mashat, President of the Supreme Political Council, officially inaugurated on Sunday the activities of the Supreme Committee of the National Campaign to support Al-Aqsa.
In his speech, President Al-Mashat stressed that the war in Palestine has become a war against Islam in which the West and America, along with the Zionist enemy, and they shed blood in a way that chills the body, and the current confrontation goes beyond its previous rounds.
He said: "Religious, moral and human responsibility obliges everyone to act." He deplore the fact that the Arab and Islamic situation remains below the required level in this fierce confrontation and attack.
He said: "Al-Aqsa Flood has taken off and will destroy everything that has been built by the occupying powers and the world imperialism. There is no such thing as Israel, which exists, is Palestine for the people of Palestine."
He pointed out that the West escaped its problems and wars by exporting Jews to the Arab homeland and created an entity for them outside the topography of the region. He said: "Britain brought the Israeli entity and must return it to where it came from so that the problem will end."
With regard to Yemen's position, President Al-Mashat stated that "the position of the Republic of Yemen is clear: the establishment of a full-fledged Palestinian State over the entire Palestinian national territory, and we have no such thing as 48 or 67 territories".
He revealed that the American side threatens to restore war in Yemen to prevent the Yemeni people from discharging their responsibilities towards the people of Palestine, pointing out that what the Yemeni people do is the least religious, moral and humanitarian duty.
He added: "I say to the brothers in Palestine all with you, peoples and resistance movements with you so that this vicious attack can be defeated."
"There are joint operating rooms, monitoring efforts and working to counter any Zionist folly by storming Gaza, and we are watching the situation closely."
During the inauguration, His Excellency the President heard from the Chairman of the Supreme Committee for the National Campaign to Support Al-Aqsa, the scholar Muhammad Muftah, and members of the committee, an explanation of the activities that the committee intends to implement in cooperation with government agencies and popular activities.