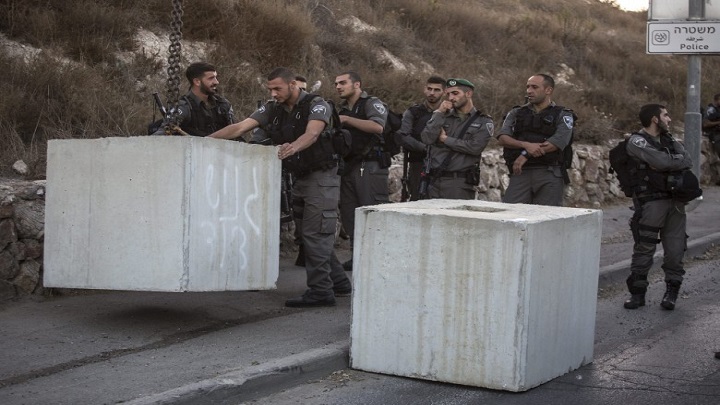 The Israeli Forces Arrest , Block Roads and Assault the Palestinians in the West Bank
YemenExtra
Y.A
The Israeli forces arrested on Friday morning four young Palestinians in the West Bank.
Israeli forces arrested a Palestinian youth from the Bab al-'Amud (one of the most famous old gates of Jerusalem) and took him to an interrogation and detention center.
The Israeli forces arrested a young man from the town of Beita, south of Nablus, and a second young man from Beit Ummar north of Hebron. The third Palestinian was arrested from Aqraba village, south of Nablus. He was an ambulance driver who obstructed a settler movement after he opened fire indiscriminately at Palestinian demonstrators.
The Israeli forces also confiscated buses of Al-Waleed Transport and Communications Company in Nablus and arrested Jamal Chalon, claiming that the protesters were transferred to the contact points.
In the context the Israeli forces closed the entrance of the town of Beit Main, south of Nablus with cement blocks.
This closure has hindered the movement of residents of the town, either to Nablus or neighboring villages and towns.
Notably,  one of the settlers was murdered yesterday the young ,Mu'taz Bani Shamsa ,from the town of Beta, whereas this entrance was the scene of several Friday prayers , marches and sit-ins in support of the captive movement.
Settlers burned a bulldozers of a Palestinian citizen and shouted racist slogans against Arabs and Muslims in the village of Burin, south of Nablus.