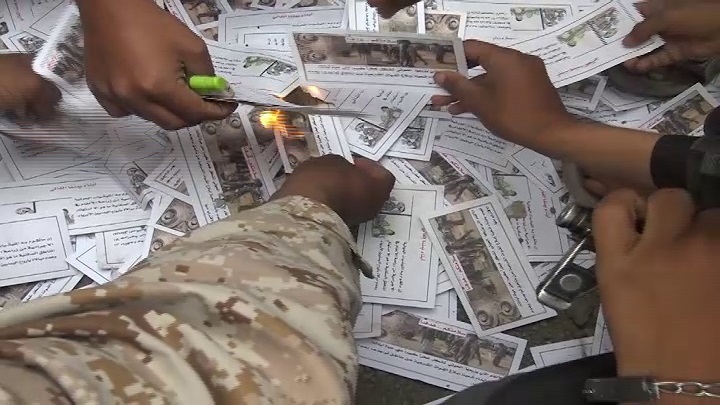 Yemenis Burn Leaflets Dropped by Saudi Warplanes in Dhala'a
YemenExtra
M.A.
The warplanes of the Saudi-led coalition dropped dozens of leaflets on Tuesday on villages in the region of Al-Oud in Dhala province.
According to local sources, the leaflets attempted to influence the residents on working in favor of its current military operation against the newly established government, formed by Ansar Allah and General People's Congress most prominent parties in Yemen.
In a response, the people of the region gathered the leaflets and let the flames of fire vanish them.
They expressed that such move functions as an evidence that the US-backed Saudi coalition is facing failure on reagrrd of achieving its goals using its aerial campaign and on ground paid-militia.
The ongoing Saudi war has been accused of committing war crimes, resulting in a total of 30,000 killed and wounded civilians, according to the Legal Centre of Rights and Development.
The three-long war caused the rage of the almost 30-million population; 7 million of them threatened by famine due to the air, sea and land blockade imposed by the coalition.
Speaking of the humanitarian crisis, it is described to be the worst in the world today by the United Nations.