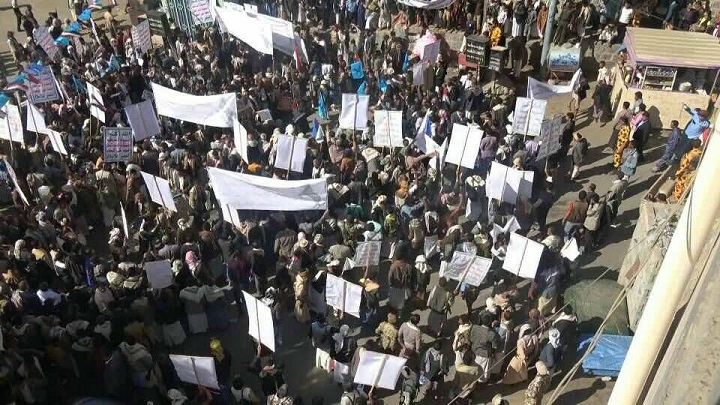 Yemenis Masses Condemn the Continued International Silence Toward Saudi Crimes
YemenExtra
M.A.
Thousands of people from the city of Hajjah took part in a massive mass rally on Saturday, condemning the continued international silence over the crimes of the Saudi-led coalition and the the disastrous siege leading to famine with millions of victims.
The rally started at 10 am today from Hawra Squareand settled at Sana'a Street in Hajjah. During the rally, Yemenis chanted  expressing their anger and indignation over the continuing massacres committed by the coalition against children, women and civilians in general.
Moreover, the rally was accompanied by poems and enthusiastic chants, expressing the steadfastness and bravery of the Yemeni people. They called on the international bodies, first and foremost the United Nations, to intervene immediately and cease the war and lift the siege.
The statement called by the rally is to stop the massacres committed by the coalition on a daily basis against the innocent people of Yemen, the last of which was the massacre of Haran in Yemen's Hajjah Governorate.