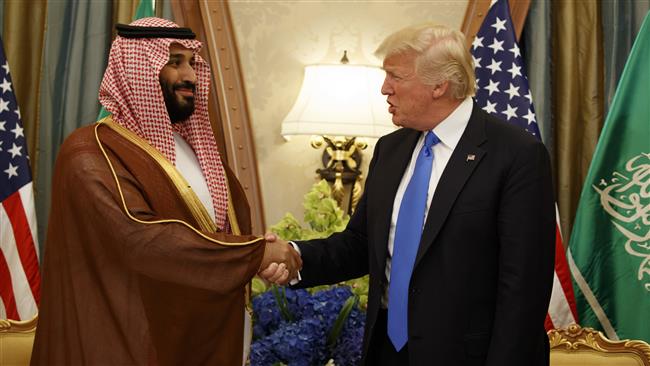 Saudi Arabia uses US mercenaries to torture arrested princes, businessmen: Report
YemenExtra
M.A.
A report reveals Saudi Arabia has been using US mercenaries to torture Saudi princes and billionaires who have recently been arrested in the biggest purge of the country's elite in the kingdom's modern history.
The arrested Saudi princes and billionaire businessmen are being strung up by their feet and beaten by American private security contractors, DailyMail.com cited a source in the kingdom as saying on Wednesday.
"DailyMail.com can disclose that the arrests have been followed by 'interrogations' which a source said were being carried out by 'American mercenaries' brought in to work for the 32-year-old crown prince [Mohammed Bin Salman], who is now the kingdom's most powerful figure," the report said.
"They are beating them, torturing them, slapping them, insulting them. They want to break them down," the source told DailyMail.com.
The mercenaries are provided by the notorious former American military service contractor "Blackwater" which has changed its name to "Academi," the report said.
Blackwater changed its name in 2009 after a group of its employees were convicted of committing torture, random killing and abuse of people in Iraq and Afghanistan.
Both Academi and its parent company Constellis have denied any involvement in Saudi Arabia and said they do not engage in torture, a practice which is illegal for any US citizen in any part of the world.
On November 4, dozens of Saudi princes, ministers, and former ministers were detained on the orders of Saudi Arabia's so-called Anti-Corruption Committee headed by the crown prince.
Former spy chief Prince Bandar bin Sultan as well as billionaire prince and the king's nephew Waleed bin Talal are among the notable businessmen and royals incarcerated.
According to the source, Mohammed Bin Salman (MBS) has also confiscated over $194 billion from the bank accounts and seized assets of those arrested.
DailyMail.com's source said MBS initially invited bin Talal to a meeting at his Al Yamamah palace, then sent officers to arrest him the night before the meeting.
"Suddenly at 2.45am all his guards were disarmed, the royal guards of MBS storm in," said the source. "He was dragged from his own bedroom in his pajamas, handcuffed, put in the back of an SUV, and interrogated like a criminal."
"All the guards in charge are private security because MBS does not want Saudi officers there who have been saluting those detainees all their lives," said the source. "Outside the hotels where they are being detained you see the armored vehicles of the Saudi special forces. But inside, it's a private security company."
"They have transferred all the guys from Abu Dhabi. Now they are in charge of everything," said the source.
The source noted that even Mohammed Bin Salman himself conducts some of the interrogations as he is desperate to assert his authority through fear and seeks to uncover an alleged network of foreign officials who have taken bribes from Saudi princes.
"When it is something big he asks them questions," the source said. "He speaks to them very nicely in the interrogation, and then he leaves the room, and the mercenaries go in. The prisoners are slapped, insulted, hung up, tortured."
Blackwater's name had previously been mentioned by Lebanese President Michel Aoun following the purge. He tweeted that Lebanese Prime Minister Saad Hariri, a Saudi-Lebanese citizen, was being detained in Riyadh by Blackwater guards, but he later deleted the tweet.
"Lebanese authorities have unconfirmed information that the Blackwater firm is guarding Hariri and his family – not official Saudi security forces," Aoun had tweeted on November 15.
A high-profile Saudi whistleblower twitter account, @ Ahdjadid also said King Salman has brought in at least 150 Blackwater guards.
"The first group of Blackwater mercenaries arrived in Saudi Arabia a week after the toppling of bin Nayef [Salman's predecessor as crown prince]," the whistleblower tweeted. "They were around 150 fighters. Bin Salman sent some of them to secure bin Nayef's place of detention and the rest he used for his own protection."
Last week, the New York Times reported that Egypt's former security chief during the Mubarak-era Habib el-Adly, who is notorious for his track record of brutality and use of torture, is reportedly serving as an advisor to Mohammed bin Salman.
Saudi Arabia's ailing 81-year-old monarch has been reportedly suffering from partial dementia and is said to be contemplating an abdication in favor of his son.
Many political observers interpret the entire crackdown as a purge against dissent before the crown prince's rise to power.
PressTV