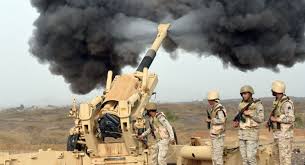 Sudden role of a nuclear state in the Saudi war on Yemen
YemenExtra
SH.A.
Britain's Daily Mail reported on Sunday (November 26th) the role of one of the largest European countries in the Saudi war on Yemen.
The newspaper said that more than 50 British military training of Saudi soldiers, and secretly, the combat skills in this war, which called it "dirty war," as he described.
The ongoing war since 2015 has so far resulted in the death of thousands of air strikes and left about one million Yemeni children at risk of famine and severe epidemics as a result of the conflict.
"The participation of the British army in this war is part of Britain's shameful complicity in this suffering," the Daily Mail quoted British MP and former British Development Minister Andrew Mitchell as saying. Britain to provide answers in the House of Commons on the role of Britain in the Saudi military operation in Yemen.
"I have no doubt that the parliament will demand clarification about the training, given the concern about the humanitarian catastrophe that is emerging in Yemen," Mitchell said, stressing that the UK is shamefully complicit in the war and in a way that violates the Geneva Conventions.