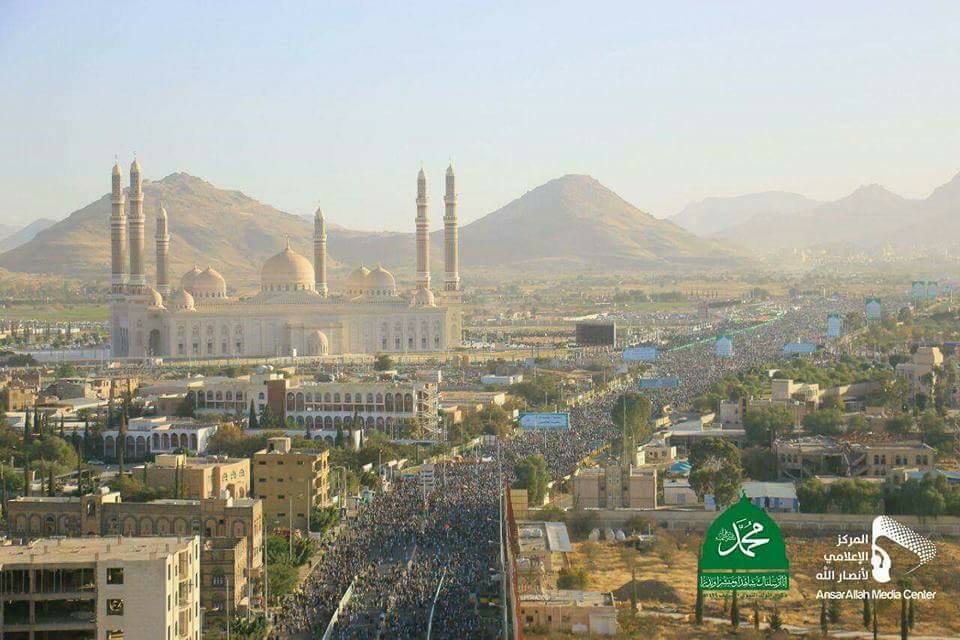 Pictures: Yemeni Women and Children Take Part in a Massive Celebration of Prophet Mohamed's Birthday
YemenExtra
M.A.
YemenExtra
M.A.
The Yemeni capital Sana'a witnessed on Thursday masses celebrating prophet Mohamed's birthday peace be upon him, hosted by Al-Sabean Square.
Yemenis honorably revived the birth of Prophet Mohamed despite the suffering caused by the war and siege imposed by the countries of the Saudi-led coalition.
The event enjoyed a popular and official presence, as well as a large media coverage, which was broadcast live in many local and Arab channels.
During the event, the leader of the Yemeni revolution of Ansarullah, Sayyed Abdul Malik Badr Al-Din Al-Houthi, in a speech welcomed the huge attendance who participated in today's celebration despite the ruthless conditions, the war and the siege, which reflects the depth of loyalty and love of the noble Prophet in the hearts of Yemenis.
At the beginning of his speech, Sayyed Abdulmalik addressed the participants in the ceremony and said: "I salute you and salute in you this high spirit, this great interaction and this vitality that provides a great image of our vivid people."
He added: "Our people are the steadfast, strong and are present in all fronts, squares and on all occasions, people that can not be humiliated and will not restrain whatever the magnitude and the level of the aggression.
Pictures: Yemeni Women and Children Take Part in a Massive Celebration of Prophet Mohamed's Birthday
Prev
1 of 23
Next