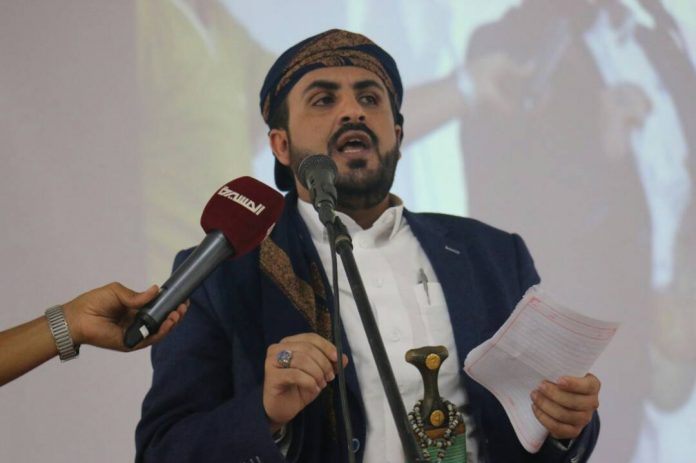 Ansarullah's spokesman: Saleh's words return to alliance, meant to weaken the internal fronts.
YemenExtra
Y.A
The spokesman of Ansarullah, on Saturday, said that we are in an important tour of the rounds of conflict betting on aggression and the people to face the coup backed by aggression.
In a statement to Al-Masirah channel, Abdulsalam said that the problem of internalization and linking it to the president of the conference for three years and forgetting aggression revealed deception.
The spokesman of Ansarullah that what was said in the words of Saleh coup against the alliance and partnership with the trend of aggression to weaken the home fronts.
He stressed that what happened today exposure to deceive the advocates of standing in the face of aggression, and the evidence provided by the leader of the Conference.
He pointed out that many of the leaders of the Congress Party do not accept that the conference is consistent with the aggression as is the case of Abde Rabo.
He explained that the security forces in cooperation with the citizens resolved many attempts to provoke chaos and deter the aggressors.
A spokesman for Ansarullah confirmed earlier on Saturday that the UAE is trying to achieve through some of the conference's associates what it failed to achieve in the field.
Abdul Salam said in an interview with Al-Masriet Net this morning that there is a project based on the UAE with some leaders within the General People's Congress to carry out the failure of the aggression on the military fronts over three years.
He asked those who have an interest in destabilizing security and stability. Do we have an interest in the existence of misery in the capital Sana'a, which represents an exceptional example of the areas occupied by the aggression?
Abdel Salam stressed that what is happening in Sanaa is regrettable and serves aggression and is clearly in coordination with him, and that the targeting of citizens in the civilian neighborhoods of the capital is a dead and immoral act.
He added that the enemy is lying to everyone and that our bet on the consciousness of society and tribesmen honorable people.
The spokesman of Ansarullah that we are present to stand by the security services to put an end to these attacks, and citizens should realize that security is in everyone's interest and move with high responsibility.
He stressed that the situation on the fronts will not be affected by attempts to undermine the security of the capital, and there has been progress of fighters in the past hours.
In a tweet on Twitter, Abdul Salam said: "There is absolutely no truth to what is published by channels of aggression on fake rulers, which clearly reveal their clear stance towards the steps being taken by the militias of the countries of aggression, which seek to create chaos and achieve security chaos.
He stressed that what is happening is a round of rounds of aggression countries linked directly and will fail, God's willing, and the efforts of the people
Source: YemenPress