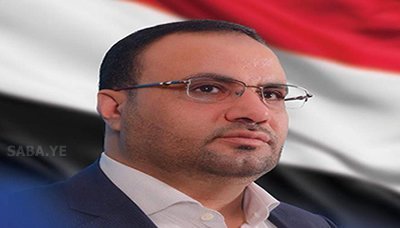 Al-Sammad: The next government plan must include measures to improve citizens' welfare
YemenExtra
Y.A
President Saleh al-Sammad, head of the Supreme Political Council, met today with the head of the National Salvation Government Dr. Abdulaziz Saleh bin Habtoor.
During the meeting, the current situation on the national scene was discussed in light of the continuation of the aggression and the siege and the massacres and crimes committed against the Yemeni people in various governorates.
The meeting reviewed the report of the governmental achievement for the current year 2017 in various aspects, especially with regard to the living conditions of citizens in light of the continuing aggression and siege and the consequent catastrophic effects at various levels.
The meeting reviewed the aspects related to the government plan for the coming year 2018, and keen to include steps and measures to improve the economic and living conditions of citizens and enhance the level of government performance and improve revenues.
In the meeting, the President stressed the importance of the Government's duty to address the existing problems imposed by the aggression and blockade and to overcome the current challenges.
He stressed that the next plan should include measures to improve the living conditions of citizens and economic conditions and enhance performance in various fields.
The President of the Supreme Political Council pointed to the need to pay attention to the development of income and diversification of sources of income, thus contributing to the public treasury to revenues that contribute to the implementation of plans and programs.
Source: Website