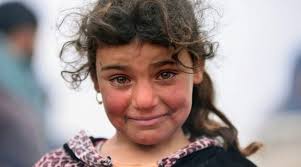 Saudi Arabia Could Blacklisted, for Children Deaths in Yemen
YemenExtra
A leaked UN report announced that Saudi-led coalition strikes have resulted in hundreds of Yemeni children being killed or maimed, as the paper urged that Riyadh and its allies be added to a black list of countries violating children's rights.
The confidential draft, which is yet to be presented by the UN Secretary-General but seen by Reuters and Foreign Policy (FP) magazine, alleges that Saudi forces and their [Persian] Gulf allies were complicit in more than half of the deaths and injuries of children in Yemen last year, RT reported.
"The killing and maiming of children remained the most prevalent violation" of children's rights in Yemen, the 41-page paper said, as cited by FP.
"In the reporting period, attacks carried out by air were the cause of over half of all child casualties, with at least 349 children killed and 333 children injured," it added.
The report, which is expected to be released next month, still requires the endorsement from UN Secretary-General Antonio Guterres. It was reportedly drafted by Guterres' special envoy for children and armed conflict, Virginia Gamba, acting on a request from the UN Security Council.
Citing "well-placed sources," FP said Gamba notified high-ranking UN officials that she suggested the coalition – comprising Saudi Arabia, Bahrain, Egypt, Kuwait, Sudan and the UAE – be included in a black list of rogue countries responsible for killing and maiming children.
Similar attempts to put Riyadh on the rogue list failed last year, when then Secretary-General Ban Ki-moon caved in to Saudi Arabia's threats to cut millions international aid funds. The Saudis further threatened to initiate a walk-out by Arab countries from the UN.
This time, however, the US pressured the UN over the proposed move, urging the global organization to single out specific countries complicit in atrocities, FP reported.
Gamba told the publication the report still needs to be finalized, adding that she was unaware of US pressure.
"None of what you indicate has reached me," the official said.
Saudi Arabia has been striking Yemen since March 2015 to restore power to fugitive president Mansour Hadi, a close ally of Riyadh. The Saudi-led aggression has so far killed at least 14,300 Yemenis, including hundreds of women and children.
Despite Riyadh's claims that it is bombing the positions of the Ansarullah fighters, Saudi bombers are flattening residential areas and civilian infrastructures.
According to several reports, the Saudi-led air campaign against Yemen has driven the impoverished country towards humanitarian disaster, as Saudi Arabia's deadly campaign prevented the patients from travelling abroad for treatment and blocked the entry of medicine into the war-torn country.