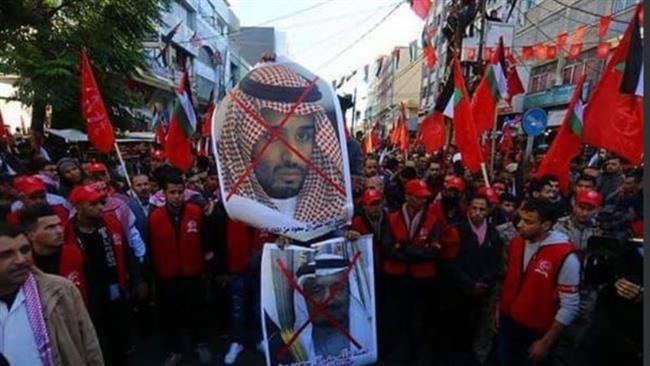 Gazans burn photos of Saudi king, crown prince
YemenExtra
M.A.
Palestinians come out in force in the Gaza Strip to protest US recognition of Jerusalem al-Quds as Israel's "capital," burning the pictures of American and Saudi heads of state.
The rally, organized by the Popular Front for the Liberation of Palestine (PFLP), drew thousands in the besieged enclave to protest the most serious inroad in recent years to the third holiest site in Islam.
The protesters set fire to American and Israeli flags as well as the portraits and effigies of US President Donald Trump, and tore up pictures of Saudi King Salman bin Abdulaziz and Crown Prince Mohammad bin Salman, Palestinian Samanews website reported.
Under the new plan, Israel lays claim to the entire city as its "capital," while Palestinians want its eastern part as the capital of their future state.
"Al-Quds is Palestine's eternal capital and not an inch of it will be conceded," to Israel, Jamil Mazhar, a PFLP leader, told the rally.
The protesters also condemned what they called Arab states' alignment with Washington, which is Israel's oldest and strongest ally, and held up placards (pictured below) reading "Down with Al Saud."
Yaacov Nagel, who stepped down as Israeli Prime Minister Benjamin Netanyahu's internal security adviser earlier this year, said last month that Saudi Arabia was ready to sacrifice Palestinians and their demands for closer ties with Israel.
On Friday, Reuters cited Palestinian officials as expressing worries that Saudi Arabia was acting behind the scenes to advance a United States "grand bargain" over the Israeli-Palestinian conflict that heavily favored Israel.
Four Palestinian officials told the agency on condition of anonymity that the Saudi crown prince had communicated a proposal to Palestinian President Mahmoud Abbas that would give away the right of return for Palestinian refugees and the status of al-Quds as the capital of a future Palestinian state in return for conditions unfavorable to the Palestinians.
Source: PressTV