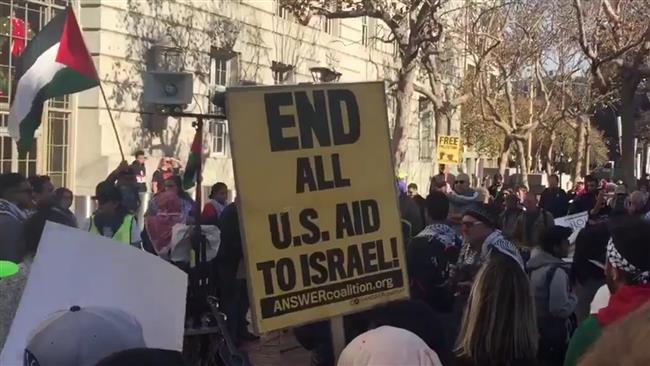 Protesters in San Francisco condemn Trump's move on Jerusalem al-Quds
YemenExtra
M.A.
US protesters have rallied in San Francisco, California, to express their anger at President Donald Trump's recognition of Jerusalem al-Quds as Israel's capital, amid similar protests in other parts of the world.
More than 100 people took part in the demonstration at San Francisco's United Nations Plaza on Saturday to condemn Trump's decision to move the US embassy from Tel Aviv to the holy city.
The protesters held signs reading "End all US aid to Israel" and chanted "Hey hey, ho ho, the occupation has got to go," and "Free Palestine."
The march was co-sponsored by almost 50 San Francisco area organizations, including some Jewish groups.
The organizers and demonstrators advocated for Jerusalem al-Quds to be turned over to the Palestinians and urged a new uprising against the Israeli regime.
"Coming here … there are people sharing these feelings and it's great," said Nabil Wahbeh at the rally. Wahbeh is Palestinian who used to live in Jerusalem al-Quds. He said Trump's announcement made him feel depressed, and he came to the protest to feel better.
Hundreds of people also held a demonstration on Friday in New York City to condemn Trump's plan.
In a speech at the White House on Wednesday, Trump officially declared Jerusalem al-Quds as Israel's capital, saying his administration would also begin a process of moving the American embassy in Tel Aviv to the holy city, which is expected to take years.
Following Trump's statement, massive protests against the United States broke out across the Muslim world, and even in many Western cities.
Large crowds of worshipers in Muslim countries staged anti-US marches after Friday prayers, some stomping on posters of Trump or burning US flags.
On Saturday, demonstrators in Indonesia gathered outside the US embassy in Jakarta to show solidarity with the Palestinian people.
In the latest demonstration, protesters clashed with Lebanese security forces on Sunday near the US embassy north of the capital, Beirut. Security forces fired tear gas and water cannon to force back flag-waving protesters.
Trump's decision on Jerusalem al-Quds triggered warnings from US allies and foes alike that he is needlessly stirring more conflict in an already volatile region.
The entire city went under Israel's control after the regime annexed East Jerusalem al-Quds in 1967 during the Arab War.
East Jerusalem al-Quds, which Palestinians want as the capital of their future state, has been designated as "occupied" territory under international law.
Source: PressTV