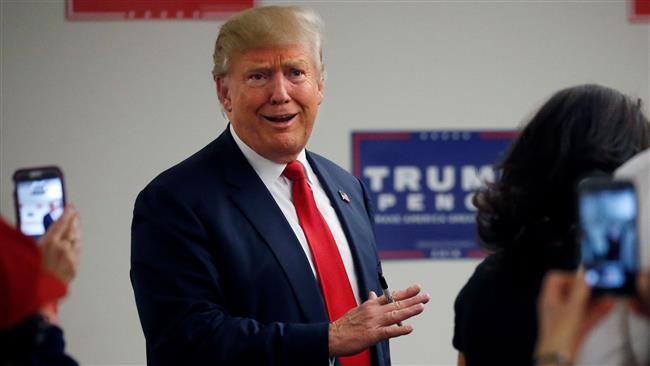 56 female lawmakers seek probe into sexual allegations against Trump
YemenExtra
M.A.
Dozens of Democratic female lawmakers have called on the House Oversight Committee to launch an investigation into allegations of sexual misconduct against US President Donald Trump.
Fifty-six members of the Democratic Women's Working Group (DWWG) wrote a letter on Monday and demanded Oversight Chairman Trey Gowdy (R-S.C.) and ranking member Elijah Cummings (D-Md.) open an investigation into the sexual allegations after at least a dozen women have "publicly accused the President of sexual misconduct."
The group is set to hold a news conference at Capitol Hill on Tuesday to highlight the demand, a day after three of Trump's accusers told their stories at a press conference and called on Congress to investigate the sexual misconduct allegations against the president, amid the snowballing harassment allegations convulsing the country.
The DWWG move comes at a time when women are coming forward with their "Me Too" accounts and telling how Trump sexually harassed them.
The sexual misconduct accusations have led to a wave of resignations and ousters of prominent figures who served in politics, the media, Hollywood, and other industries.
"In the time of 'Me Too,' women across the country are coming forward with their own harrowing stories of sexual harassment and assault. Members of Congress have also come under scrutiny and investigation, with some resigning, for improper sexual conduct. We cannot ignore the multitude of women who have come forward with accusations against Mr. Trump," the DWWG members wrote.
"The President has boasted in public and in crude terms that he feels at liberty to perpetrate such conduct against women. Subsequently, Mr. Trump apologized and called it 'locker room talk.' He has since called all his accusers liars," they wrote.
More than a dozen women have accused Trump of unwanted sexual advances, including forcible kissing or groping.
There is growing concern within the administration that the president may not escape renewed scrutiny at a time when a number of powerful men have been forced to step down because of sexual impropriety.
Weeks before the presidential election last November, The Washington Post released a tape in which Trump boasted about how he sexually assaulted women because he was powerful.
On Sunday, US Senator Bernie Sanders suggested Trump should consider stepping down over the allegations.
The remarks by Sanders, who was a candidate in last year's presidential race, follow similar calls from a number of Democratic Senators, including Cory Booker and Jeff Merkley.
Trump 'angered' by Haley
US Ambassador to the United Nations Nikki Haley has said women who have accused Trump of sexual misconduct "should be heard."
"Women who accuse anyone should be heard. They should be heard and they should be dealt with," Haley said on Monday when asked about allegations of misconduct leveled against the US president.
"And I think we heard from them prior to the election. And I think any woman who has felt violated or felt mistreated in any way, they have every right to speak up."
Trump is reportedly furious with Haley over her statement. Haley's comments angered Trump, two people familiar with the president told The Associated Press.
Haley, a former governor and one of the highest-ranking women in the Trump administration, said "the time has come" to bring "a conscience" to the way women are treated in the United States.
The comments were a surprising break from the assertion by the administration that the allegations are simply unfounded and that voters dismissed them when they elected Trump.
PressTV