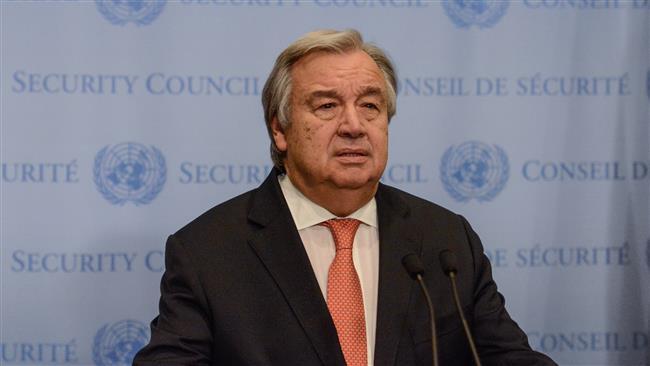 UN experts do not confirm Iran link to Yemen missiles: Report
YemenExtra
M.A.
UN experts, who examined the debris from missiles fired from Yemen at Saudi Arabia earlier in the year, have not confirmed that the projectiles were "Iranian-made" as claimed by the Riyadh regime and the US.
The missiles were fired by Yemeni Ansarullah fighters at the Saudi capital on July 22 and November 4 in retaliation for Riyadh's deadly raids against the country.
United Nations Secretary-General Antonio Guterres said in a confidential report obtained by AFP on Monday that the world body's team, which visited Riyadh last month to scrutinize the alleged evidence, had not yet established a link between them and the Islamic Republic.
Saudi Arabia, which accuses Iran of arming Yemen's Houthi Ansarullah movement against the kingdom, claims the missiles, which it says were fired at its capital city, had been supplied to Yemeni forces by Iran.
Following the first missile launch, Riyadh also angered the international community and human rights groups by tightening the already crippling siege against Yemen.
Tehran has invariably dismissed having ever armed the movement and any accusation of regional interference for that matter.
On Monday, Iran's Foreign Ministry Spokesman Bahram Qassemi said, "Whatever happens inside Yemen concerns the Yemeni people and resistance and does not concern the Islamic Republic."
Ansarullah aka Houthis have been defending Yemen against a Saudi-led military offensive, which seeks to restore the former Riyadh-allied government. The war has killed some 12,000 people and reduced the country's infrastructure to smithereens since its start in early 2015.
Guterres wrote that UN officials were "still analyzing the information collected and will report back to the [UN] Security Council."
The investigators also examined two drones allegedly recovered in Yemen, but did not confirm a Saudi claim that one of them was "Iranian-made."