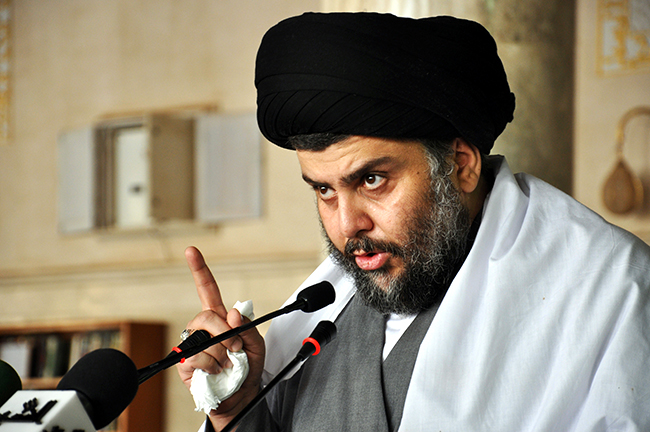 Iraqi Shiite leader urges militiamen to hand over weapons to government
YemenExtra
Y.A
Last week, Iraqi Prime Minister Haider Abadi declared victory over Daesh and the restoration of control over the border with Syria.
Muqtada Sadr, an Iraqi Shiite cleric and militia leader, has urged his Saraya al-Salam's paramilitary units to surrender their weapons to the government forces following the official declaration of the victory over Daesh in Iraq.
Sadr has also called on his forces to hand over to Iraq's security forces the territory they control, except for Samarra, a holy city for Shiites where the situation remains "sensitive," within 45 days.
He has reiterated his call to help the central authorities strengthen their control across the whole of Iraq and also warned the paramilitary units against running in the country's 2018 elections under the banner of the Popular Mobilization Forces.
The statement follows Iraqi Prime Minister Haider Abadi's announcement of the victory over Daesh, which was achieved with the help of the Popular Mobilization Forces, including Sadr's Saraya al-Salam militia.
However, al-Abadi has failed to mention the Kurdish Peshmerga in his victory speech, which aroused swift condemnation from Kurdistan, according to the Rudaw Media Network report, prompting the fighters' condemnation.
Daesh invaded Iraq back in 2014, seizing Mosul, the country's second biggest city, and making it the group's capital in Iraq, prompting the country's forces supported by the US-led coalition to launch an operation to free the territories a year later. In summer of 2017, the Iraqi forces regained control over Mosul, while later in November, over the town of Rawa, the last Daesh stronghold in the country.
The Popular Mobilization Forces (al-Hashd al-Shaabi) were formed in 2014 mainly by Iraqi Shiites in order to fight against Daesh after it had seized vast areas of Iraq. Two years later, the forces were brought under the control of the Iraqi armed forces and Commander in Chief Abadi.
Sadr, one of the most influential religious and political figures in Iraq, became famous in early the 2000s as the leader of the Mahdi Army, which fiercely opposed the US-led invasion of Iraq.
Source: Sputnik