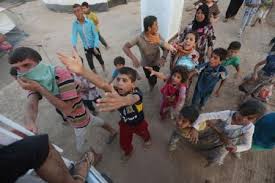 More than 8 million Yemenis 'a step away from famine': U.N.
YemenExtra
SH.A.
Warring sides must let more aid get through to 8.4 million people who are "a step away from famine" in Yemen, a senior U.N. official said on Monday.
Food aid is lined for distribution by a local charity in Sanaa, Yemen, June 5, 2016.
Jamie McGoldrick, the humanitarian coordinator for Yemen, said the blockade has since been eased, but the situation remained dire.
"The continuing blockade of ports is limiting supplies of fuel, food and medicines; dramatically increasing the number of vulnerable people who need help," McGoldrick said in a statement.
"The lives of millions of people, including 8.4 million Yemenis who are a step away from famine, hinge on our ability to continue our operations and to provide health, safe water, food, shelter and nutrition support," he added.