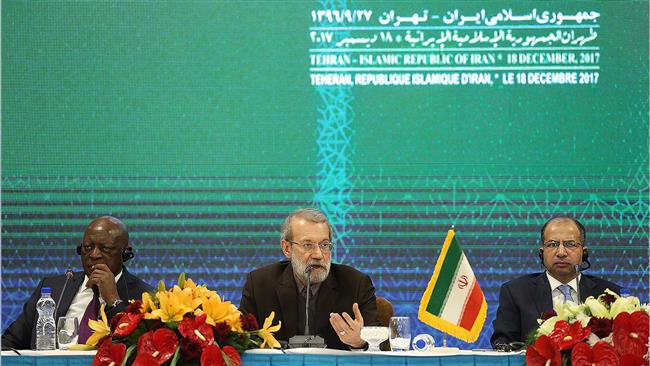 Claim of Iran military aid to Yemen sheer lie: Larijani
YemenExtra
M.A.
Iran's Parliament Speaker Ali Larijani says the Islamic Republic is not providing military assistance to Yemen and all claims to this effect are false.
Larijani made the remarks while addressing the extraordinary meeting of the Palestinian Committee of the Parliamentary Union of the Organization of Islamic Cooperation Member States (PUOICM) in the Iranian capital Tehran on Monday.
"We are not a country that would deny providing military assistance to anybody," Larijani said.
He added that Iran was providing military assistance to Palestine, but had not helped Yemeni fighters in their war with Saudi Arabia in military terms, dismissing any claim to this effect as a lie.
"The Yemenis' missiles belong to themselves and some countries cannot achieve their goals by making such claims," the top Iranian parliamentarian said.
On Thursday, US Ambassador to the United Nations Nikki Haley appeared in a staged show in front of a large and charred tube that she claimed was "concrete evidence" that Iran was providing missiles to Yemeni forces fighting against Saudi Arabia's war of aggression on their country.
A Saudi Arabian-led coalition launched a war against Yemen in 2015 and has ever since been indiscriminately hitting targets in the country. Yemeni Ansarullah fighters have been firing missiles in retaliatory attacks against Saudi targets every now and then.
On November 4, a missile fired from Yemen targeted King Khalid International Airport near Riyadh, reaching the Saudi capital for the first time.
Elsewhere in his remarks, Larijani said terrorism has tremendously grown in recent years both in quantitative and qualitative terms, emphasizing that such growth would not have been possible without the support of the US and some countries in the region.
Israel and terrorism are the two sides of the same coin and pursue similar goals, he said.
Larijani also emphasized that US-backed terrorists sought to create chaos in the Middle East and pointed to the recent announcement by the Israeli regime that it enjoyed the best conditions since Muslim countries were grappling with terrorism.
Ali Akbar Velayati, a senior advisor to Leader of the Islamic Revolution Ayatollah Seyyed Ali Khamenei on international affairs, on Sunday dismissed as "baseless and ridiculous" the recent US claim about Iran providing missiles to Yemen's Houthi Ansarullah movement, saying that even international experts had mocked the accusation.
Iranian Foreign Minister Mohammad Javad Zarif said on Friday that the United States was complicit in Saudi war crimes in Yemen.