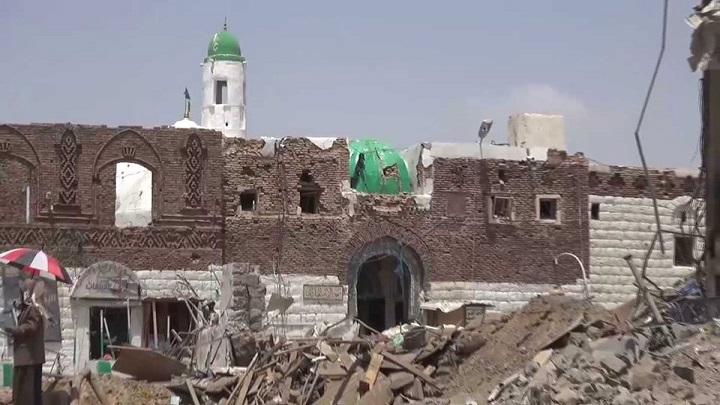 Tremendous Damage Inflicted by Yemeni Historical Cities Due to Saudi War
YemenExtra
M.A.
The General Authority for the Preservation of Historic Cities held a press conference on Monday to present the results of the report of damage inflicted by the Yemeni historic city of Sana'a, which resulted from 1000 days of Saudi-led war.
At the conference, Deputy Minister of Culture Huda Ablan, delivered a speech in which she expressed her thanks and appreciation to the cadres of the Commission and the survey team for their achievements in the report of the damage survey, stressing that the Saudi-led coalition committed the most heinous crimes against Yemeni cultural heritage throughout the country.
"The aggression will go to the dustbin of history while our history will be present and a witness of the Saudi-led coalition horror," she said.
The Chairman of the Commission, Dhaifullah Fares, made a welcoming speech in which he expressed his thanks to the survey team for reviewing the crimes of the Saudi-led coalition on Yemen during 1000 days of war against Yemen's cultural heritage amid an international silence.
On the other hand, Vice-Chairman of the Commission, Head of Survey Team Nabil Munasser, reviewed the results of the survey report, pointing out that the survey included:
2542 houses in Sana'a, 577 houses of which there were no damages and 1965 houses suffered various damages which are distributed as follows:
140 houses sustained minor damage.
376 houses sustained moderate damage.
86 houses were severely damaged.
43 houses were completely destroyed.
He pointed out that these houses require urgent intervention, whereas 238 houses demand rapid reinforcement.
166 houses need roofing.
12 houses need to be rebuilt.
456 homes need restoration.
1032 houses need maintenance.
All of which require a budget of at least 2.5 billion riyals.
The agency's representative, Amat al-Razzaq Jahaf, also issued a statement on the damage caused to the historic cities during the 1000 days of Saudi war.
Furthermore, the conference included a photo exhibition displaying the material losses caused by the Saudi-led coalition to the historic cities of Yemen during the 1000 days of combat.
The conference was attended by a number of Yemeni officials of the Ministry and the Authority.