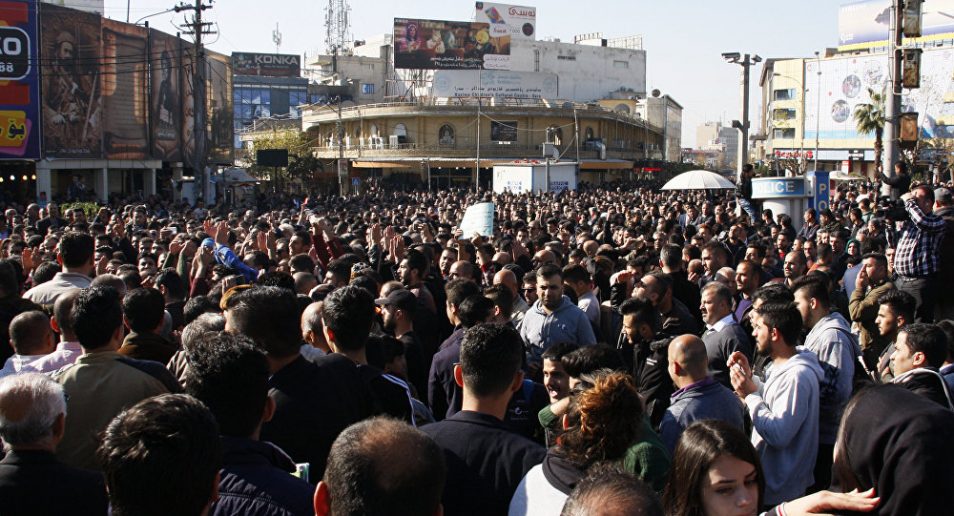 Protesters set fire to Kurdistan Democratic Party office in north Iraq – reports
YemenExtra
Y.A
The Kurdistan Democratic Party, governing in Iraqi Kurdistan, has not yet commented on the ongoing protests in the region.
Protesters demanding the ouster of authorities from the semi-autonomous Iraqi Kurdistan, reportedly set on fire a Kurdistan Democratic Party office not far the city of Sulaimaniyah, according to the AFP news agency, citing Abdel Razak Sharif, a leader of the Goran party.
According to the media report, the protesters have set ablaze the party's coalition partner, Patriotic Union of Kurdistan (PUK), as well as two other regional political groups.
Some 3,000 protesters, comprising hospital personnel, teachers, workers and other public sector employees, reportedly took to the streets of Sulaimaniyah earlier, demanding their wages from the regional government, following years of austerity and overdue salaries in the sphere.
The demonstrators were screaming "down with the thieves", "death to Barzani" and "down with the government that lost the disputed regions," according to the report.
The authorities of the region, which held an independence referendum on September 25, as well as the KDP's representatives, are yet to comment on the issue.
The reasons behind the austerity in the region, which triggered the escalation of tensions in the region, are connected with the seizure of the oil-rich territories of Kirkuk, which led to the loss of about a half of the revenues in the area, and the cut of the financial support from the Iraqi side in early 2014, after Iraqi Kurdistan had built independent oil pipeline to Turkey.
The situation in Iraqi Kurdistan has further escalated since Iraqi authorities had launched a military campaign in the region across the border from Syria, provoked by their independence bid. The loss of oil-rich territories hit a hard blow to the local powers, with Kurdish leader Massud Barzani's announcement of his resignation in late October.
Following the move, the legislative and presidential elections set to take place on November 1, were postponed.
Source: Sputnik