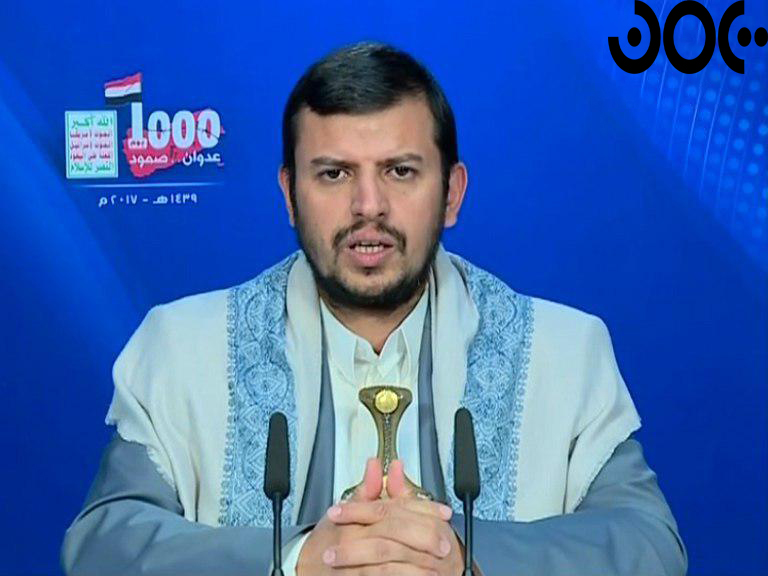 Sayyed Al-Houthi speech on the passing of 1000 days of US-Saudi attack on Yemen
YemenExtra
SH.A.
The leader of Yemen,Sayyed Abdul Malik Al-Houthi has strongly condemned the ongoing Saudi Arabia's devastating aerial bombardment campaign against his country, blaming the United States as the main architect of the atrocious military aggression.
Addressing his supporters via a televised speech broadcast live from the Yemeni capital city of Sana'a ,on Tuesday, Abdul Malik Badreddin al-Houthi stated that the Riyadh regime has made use of all available means in its attacks against the Yemeni nation.
Sayyed Abdul Malik  delivered  the  speech on the passing of 1000 days of the US-Saudi attack on Yemen, the steadfastness of the Yemeni people and the courageous resistance of the army and the popular committees.
"Civilian and religious sites have been targeted in Yemen within the three years of Saudi war. The Saudi regime does not shy from pounding anything which has to do with Yemen," he said.
"Aggressors have, nevertheless, failed to force Yemenis into submission," he underlined.
"Saudi crimes against Yemen are a test for the entire world to see whether they speak the truth or not," Sayyed Houthi pointed out.
He stressed that Saudi Arabia and its regional allies are serving the interests of the Zionist regime of Israel in their military campaign against Yemen.
"The Saudi regime is an outsider and a traitor to all Muslim nations. Yemeni people are standing together in the face of the Saudi aggression no matter how different their stances might be," the Ansarullah leader said.
He also slammed the media cover-up by Western media outlets over the Saudi war on Yemen.
Sayyed Houthi further noted that the most savage and reactionary regimes in the Middle East region are involved in the Saudi-led aggression on Yemen.
"Yemenis will never surrender to the murderers of women and children. Enemies will not be able to take away our freedom, and weaken our willpower," he commented.
He also said the 1,000 days of resistance and steadfastness by the Yemeni people against Saudi Arabia and its allies attest to the fact that Yemenis' faith cannot be undermined in any away.
He lauded the sacrifices made by the Yemeni people, stressing that "We will not allow our enemies to colonize Yemen."
"Aggressors thought they could occupy the entire Yemen within a matter of days. Thousands of our children have been mercilessly killed in the Saudi-led airstrikes. This is while Yemenis are still resilient and steadfast despite the all-out war and various shortcomings they are wrestling with," Houthi said.
He lashed out at the Saudi regime over turning Yemen into the world's largest humanitarian crisis, emphasizing that Yemeni forces would not hesitate to launch barrages of domestic missiles at Riyadh and the Emirati capital city of Abu Dhabi if the airstrikes continue.
Sayyed Abdul Malik Al-Houthi called upon all Yemeni factions, institutions and all walks of the society to join forces against the current challenges.