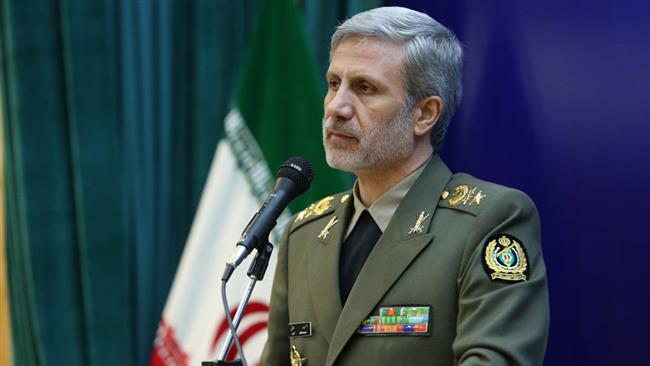 US claim on Yemen missiles ridiculous charade: Iran defense minister
YemenExtra
M.A.
Iran's Defense Minister Brigadier General Amir Hatami has dismissed as a "ridiculous charade" fresh US allegations that an Iranian missile was used by Yemen's Houthi Ansarullah movement to target Saudi soil.
"Such baseless claims indicate the failure of US policies in the region and the world, and they look more like a worthless and ridiculous charade. However, the Islamic Republic of Iran will legally follow up on the issue," Hatami said at a conference in Tehran on Wednesday.
The Iranian defense chief further said the enemies of Iran have come to the realization that they are not capable of posing any threats against the country, and are therefore now attempting to restrict Iran's regional influence and defense capabilities.
Meanwhile, Iran's Foreign Minister Mohammad Javad Zarif, who is in Baku for a tripartite meeting with his Turkish and Azeri counterparts, also condemned the US "baseless allegation" and pledged to pursue the issue at the UN Security Council.
The top Iranian diplomat noted that Tehran has already informed UN Secretary-General Antonio Guterres of the issue.
By leveling such accusations against Iran, Zarif added, the Americans are trying to cover up their "highly dangerous moves" in the region, including their support for the deadly Saudi war on Yemen and their recent policy shift on Jerusalem al-Quds.
US Ambassador to the United Nations Nikki Haley went on live television Thursday to display debris purportedly from a ballistic missile that had been fired on November 4 from Yemen at an airport in the Saudi capital, Riyadh.
The Yemeni movement and its allied forces have been defending the nation against a Saudi war, which began in March 2015.
The Iranian Foreign Ministry rejected the allegation as "provocative and baseless," saying the Yemenis had shown an "independent" reaction to the Saudi bombing campaign on their country.
Haley repeated those allegations at a meeting of the UN Security Council on Tuesday.
She also pointed to the the missile fired by Yemeni forces towards the royal palace in Riyadh earlier in the day, claiming it "bears all the hallmarks of previous attacks using Iranian-provided weapons."
A spokesman for the Saudi-led coalition also alleged on Tuesday that the ballistic missile fired at Riyadh was "Iranian-manufactured."
Saudi Arabia and its allies launched the war on Yemen in March 2015 in a bid to crush the Ansarullah movement and reinstate the former Riyadh-friendly regime, but they have achieved neither of their goals.
The Saudi-led war, which has been accompanied by a naval and aerial blockade on Yemen, has so far killed over 12,000 people and led to a humanitarian crisis as well as a deadly cholera outbreak.
PressTV