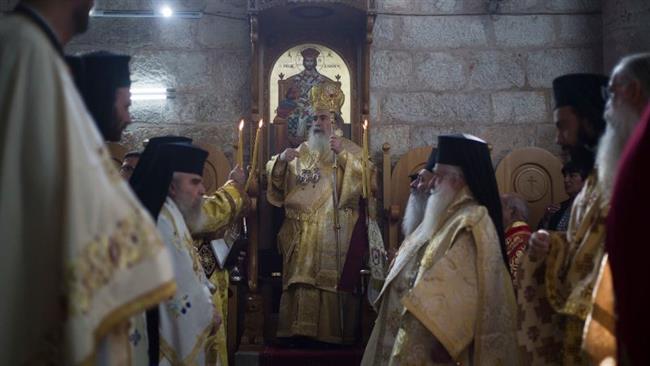 Christians leaders say Trump's move on Jerusalem al-Quds 'insulting'
YemenExtra
M.A.
Palestinian Christian leaders have decried as "dangerous" and "insulting" US President Donald Trump's decision to recognize Jerusalem al-Quds as Israel's so-called capital.
"We, Palestinians, Christians and Muslims reject the US recognition of Jerusalem as the capital of Israel," Atallah Hanna, the archbishop of Greek Orthodox Church of Jerusalem al-Quds, said at a news conference in the West Bank city of Bethlehem.
The US move, he said, was "an insult to Christians and Muslims around the world, who consider Jerusalem as an incubator of their most sacred, spiritual and national heritage."
Hanna said Trump's decision was "dangerous" to the Palestinian cause, adding the US "gave the occupation what it does not deserve."
Trump announced earlier this month his decision to recognize Jerusalem al-Quds as Israel's so-called capital and relocate the US embassy from Tel Aviv to the holy city.
As tensions rose in Palestine over Trump's bid, a split occurred between Palestinian Christians and the Greek Orthodox Church, which serves as a custodian for many sites, for giving up control of its properties to Israel through land sales or multi-decade leases.
The church's followers, who are overwhelmingly Arabic-speaking Palestinians, have been angered by the practices of its leadership, Holy Synod, made up mostly of Greeks.
Local Christians expressed concerns that disposing of the land erodes their already shrinking presence in the Holy Land.
They further said the Greek Orthodox Patriarchate essentially has no right to sell or lease the properties, adding it is the land that belongs to them, given by their ancestors to the church for protection during turbulent times.
The church members have staged protests in the West Bank and Jerusalem al-Quds over the past few months and launched a campaign on social media. Some have called for the resignation of their leader, Patriarch Theophilos III of Jerusalem al-Quds.
Issa Rishmawi, a Greek Orthodox Palestinian from Beit Sahour near Bethlehem, said Sunday, "A hundred years ago, there was no way for my grandfather to make this struggle against the church, but we've had enough. We want to fight back."
Church members say authorities have made secret deals with right-wing Israeli groups seeking to expand their presence in the Palestinian areas or with investors more interested in making a profit than in preserving the integrity of the sites.
Patriarch Theophilos has also said that Israel pressured him into selling or leasing the property cheaply in some cases or even seized it.
PressTV