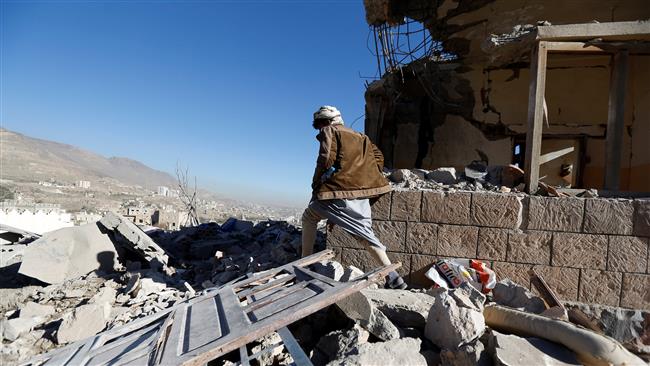 UN says Saudi 'absurd, futile' war in Yemen killed 109 civilians in past 10 days
YemenExtra
M.A.
A high-ranking United Nations official says more than a hundred civilians, including 54 at a crowded market and 14 members of one family in a farm, have lost their lives in Saudi airstrikes against residential areas across Yemen in the past 10 days, describing the military aggression as "absurd and futile."
"These incidents prove the complete disregard for human life that all parties, including the Saudi-led coalition, continue to show in this absurd war …," Jamie McGoldrick, the UN humanitarian coordinator for Yemen, said on Thursday.
He added, "This absurd war … has only resulted in the destruction of the country and the incommensurate suffering of its people, who are being punished as part of a futile military campaign."
The remarks came on the same day that two civilians were killed as Saudi military aircraft carried out a string of airstrikes on Yemen's northern province of al-Jawf.
A local source, requesting anonymity, told Arabic-language al-Masirah television network that Saudi fighter jets mounted five aerial assaults against al-Matammah district on Thursday morning, and five others against Khabb and Sha'af plus al-Zahir districts.
The source added that two civilians were killed when a Saudi warplane struck a truck as it was traveling along a road in al-Matammah district.
One civilian also sustained injuries when his car, which was carrying pieces of nursery equipment for newborn babies, was damaged in an airstrike.
At least 13,600 people have been killed since the onset of Saudi Arabia's military campaign against Yemen in 2015. Much of the Arabian Peninsula country's infrastructure, including hospitals, schools and factories, has been reduced to rubble due to the war.
The Saudi-led war has also triggered a deadly cholera epidemic across Yemen.
According to the World Health Organization's latest count, the cholera outbreak has killed 2,167 people since the end of April and is suspected to have infected 841,906.
On November 26, the United Nations children's agency (UNICEF) said that more than 11 million children in Yemen were in acute need of aid, stressing that it was estimated that every 10 minutes a child died of a preventable disease there.
Additionally, the UN has described the current level of hunger in Yemen as "unprecedented," emphasizing that 17 million people are now food insecure in the country.
It added that 6.8 million, meaning almost one in four people, do not have enough food and rely entirely on external assistance.
A recent survey showed that almost one-third of families had gaps in their diets and hardly ever consumed foods like pulses, vegetables, fruit, dairy products or meat.
More than three million pregnant and nursing women and children under the age of five also need support to prevent or cure malnutrition.
PressTV