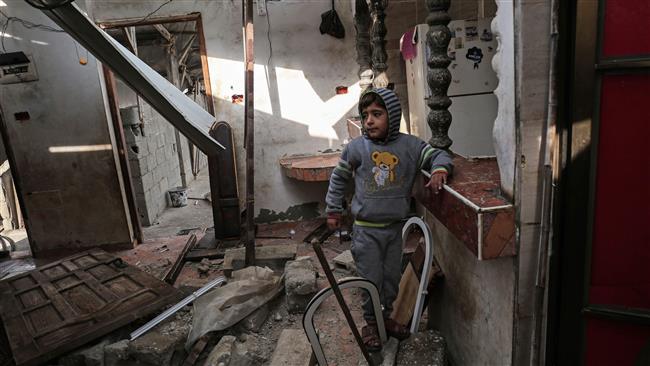 Israeli jets, tanks launch fresh attacks against Gaza Strip
YemenExtra
M.A.
Israeli military aircraft and battle tanks have carried out a series of attacks on the besieged Gaza Strip amid rising tensions in the occupied territories over US President Donald Trump's decision to recognize the occupied Jerusalem al-Quds as the "capital" of Israel despite widespread international opposition to the measure.
The Israeli assaults hit positions belonging to the Islamic resistance movement, Hamas, east of Tuffah district of Gaza City, on Friday afternoon.
Spokesman for the Gaza Ministry of Health, Ashraf al-Qidra, said in a statement that nobody was injured by the Israeli fire.
The Israeli army asserted that Palestinian fighters had fired three rockets at occupied lands, two of which were intercepted by Israel's Iron Dome missile system.
Police said the third rocket hit a structure in a community near Gaza, causing damage but no casualties.
On December 6, Trump announced his decision to recognize Jerusalem al-Quds as Israel's capital and relocate the US embassy in Israel from Tel Aviv to Jerusalem al-Quds.
The dramatic shift in Washington's policy vis-à-vis the city triggered demonstrations in the occupied Palestinian territories, Iran, Yemen, Turkey, Egypt, Jordan, Tunisia, Algeria, Iraq, Morocco and other Muslim countries.
On December 21, the United Nations General Assembly overwhelmingly voted in favor of a resolution that calls on the US to withdraw its controversial recognition of Jerusalem al-Quds as Israeli "capital."
In an attempt to avert the resolution, Trump had warned that "we're watching," threatening reprisals against countries that back the measure, which earlier faced a US veto at the UN Security Council.
Israel, however, rejected the world body's resolution while thanking Trump for his decision to move US embassy from Tel Aviv to Jerusalem al-Quds.
Jerusalem al-Quds remains at the core of the Israeli-Palestinian conflict, with Palestinians hoping that the eastern part of the city would eventually serve as the capital of a future independent Palestinian state.
The Gaza Strip has been under an Israeli siege since June 2007. The blockade has caused a decline in living standards as well as unprecedented levels of unemployment and unrelenting poverty.
Under the Israeli blockade, about 1.8 million people in Gaza are deprived of their basic rights, such as freedom of movement, jobs with proper wages as well as adequate healthcare and education.
The Tel Aviv regime has also waged several wars on Gaza since 2008 in which thousands of Gazans have been killed or maimed and a significant portion of infrastructure in the enclave has been destroyed.
PressTV