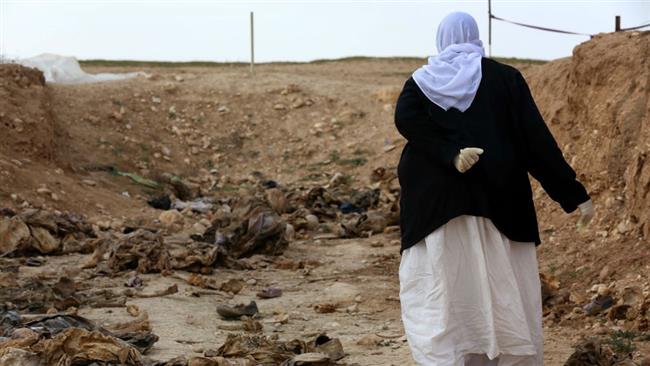 Iraqi search teams find dozens of Izadi bodies in mass grave in Nineveh
YemenExtra
Y.A
An Iraqi legislator says search teams have found a mass grave in the country's northern province of Nineveh containing the bodies of dozen members of Izadi minority, who are believed to have been executed by Takfiri Daesh terrorists when they were in control of an area there.
Haji Kendor told Arabic-language al-Ghad Press news agency on Friday that the mass grave contains the bodies of 80 elderly and disabled women and is located near the town of Sinjar, situated over 400 kilometers northwest of the capital Baghdad.
Kendor added some of the victims had been buried alive, noting that Daesh terrorists buried the Izadi women inside in a fish farm, and the grisly discovery was made by local search teams.
Back in August 2014, Daesh terrorists overran the town of Sinjar, killing, raping, and enslaving large numbers of Izadi Kurds.
The region was recaptured in November 2015, during an operation by Kurdish Peshmerga forces and Izadi fighters.
The Office of Kidnapped Affairs in the northern Iraqi city of Dohuk said earlier this year that around 3,500 Izadi Kurds were still being held captive by Daesh extremists, adding that a large proportion of the abductees were women and children.
The Endowments and Religious Affairs Ministry of the semi-autonomous Kurdistan Regional Government announced in early August that Daesh's genocide against Izadis had forced nearly 360,000 members of the minority to flee their hometowns, and another 90,000 had left Iraq and taken refuge in others countries.
It added that Daesh militants have kidnapped 6,417 Izadi Kurds, including 1,102 women and 1,655 children, since 2014.
Additionally, 2,645 children have lost their first line of protection, and the number includes 220 kids whose parents are still being held captive.
 Source: Website