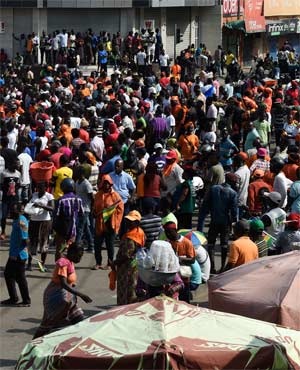 Thousands gather in Togo to protest president
YemenExtra
Tens of thousands of demonstrators thronged the streets of the Togolese capital on Saturday, the latest in a series of mass protests against the rule of President Faure Gnassingbe.
Anti-government marches have been held across the country nearly every week since August, attracting hundreds of thousands of protesters demanding the exit of Gnassingbe, who has ruled for more than 15 years.
"We will never tire. This time we are going to see this fight, which started several months ago, through to the end," said a motorcycle taxi driver who joined the marches in Lome on Saturday.
The scion of one of Africa's longest-ruling dynasties, Gnassingbe took power in 2005 after the death of his father General Gnassingbe Eyadema, who ruled the country for 38 years.
Opposition parties have persistently called for the introduction of a maximum two-term presidential mandate and a two-round voting system.
However, Gnassingbe has refused to rule out running for president again.
Although Saturday's demonstration passed peacefully, there have been confrontations with police at several previous rallies, most recently on Thursday when 12 people were hurt after officers fired tear gas at protesters.