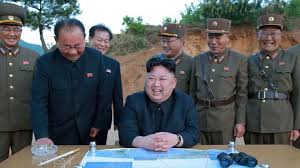 Kim Jong Un Warns US: Nuclear Button Always on My Desk
YemenExtra
M.A.
North Korean leader Kim Jong Un has warned the United States that his country's nuclear capabilities are now complete and the nuclear launch button is always on his desk.
"The entire mainland of the US is within the range of our nuclear weapons and the nuclear button is always on the desk of my office. They should accurately be aware that this is not a threat but a reality," said Kim during his annual New Year's Day address, according to a CNN translation of the speech.
"No matter how much America wants to attack us with their military might and nuclear power, they know that now we possess such a great nuclear power and therefore they will not dare," Kim said, adding that his country's greatest achievement of 2017 was the "historic accomplishment of completing our nuclear capabilities."
Since coming to power, Kim has overseen a dramatic increase in the pace of North Korea's missile program. As of February last year, Pyongyang has fired off 23 missiles, improving its technology with each launch. In September, the regime carried out its sixth and most powerful nuclear test.
Source: CNN