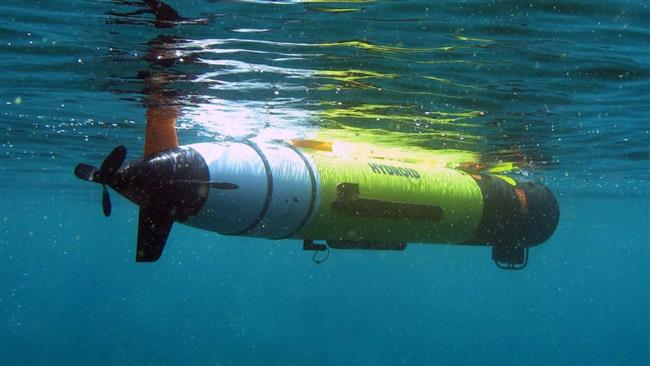 Yemeni naval forces seize Saudi autonomous underwater vehicle
YemenExtra
M.A.
Yemeni naval forces, supported by allied fighters from Houthi Ansarullah movement, have managed to seize a Saudi autonomous underwater vehicle (AUV) in Yemen's territorial waters.
Brigadier Aziz Rashed, deputy military spokesman for the Yemeni army allied with Ansarullah, told the Arabic service of Russia's Sputnik news agency on Monday that the AUV was remote controlled, and had detailed pictures of its operation zone.
Rashed identified the craft was of REMUS (Remote Environmental Monitoring UnitS) series, which are primarily used to detect mines and examine the shipwreck, and operate with WiFi and GPS trackers.
The senior Yemeni military figure noted that the AUV has an operational endurance of 24 hours, and can cruise at 5.93 knots (11 kilometers) per hour. It is used in reconnaissance missions and is capable of either storing information or transferring data via online connections.
Rashed went on to say that Saudi Arabia, through various means, is seeking to spy on the type and number of weapons in the inventory of Yemeni military forces.
On August 12, 2017, Yemeni naval forces, backed by fighters from Popular Committees, targeted and destroyed a military vessel in a missile attack off the coast of the country's southwestern province of Ta'izz.
A military source, speaking on condition of anonymity, told Arabic-language al-Masirah television network that the frigate was targeted with a guided missile in waters near the port city of Mukha, situated 346 kilometers south of the capital Sana'a.
On July 29, 12 Emirati troopers lost their lives and another 23 sustained injuries when their frigate was targeted with a guided missile off the coast of Mukha.
An unnamed military source told Yemen's official SABA news agency that the vessel was heavily loaded with various munitions, and the missile attack caused a series of explosions that lasted for several hours, before water-dropping planes could extinguish the flames.
The source added that the wounded Emirati soldiers were transported to the Eritrean port city of Assab to receive treatment.
The Yemeni navy has warned the Saudi-led military coalition, which is assisting Riyadh in its war on Yemen, against any adventurism in the Red Sea, efforts to prevent humanitarian convoys from reaching the strategic port city of Hudaydah and attacks on Yemeni fishermen.
The naval force has warned that the escalation of confrontation in the Red Sea does not serve the interests of any side, emphasizing that Yemeni fighters would not hesitate to give a befitting response to any act of aggression against their country.
Yemeni snipers kill 2 Saudi soldiers in Jizan
Meanwhile, two Saudi soldiers have been killed when the Yemeni army and fighters from the allied Popular Committees launched two separate attacks against the kingdom's southwestern border region of Jizan in retaliation for the Riyadh regime's campaign against the impoverished Arab country.
An unnamed military source, speaking on condition of anonymity, told Arabic-language al-Masirah television network that Yemeni snipers fatally wounded the soldiers in the al-Dokhan and Jahfan military bases of the region, located 967 kilometers southwest of Saudi Arabia's capital Riyadh, on Monday evening.
Also on Monday, Yemeni army soldiers and their allies launched a barrage of artillery rounds at a gathering of Saudi troops in the kingdom's southwestern region of Asir, with no immediate reports of casualties and the extent of damage caused available.
Saudi airstrike leaves two civilians dead in Hudaydah
Separately, two people were killed and as many injured when Saudi warplanes targeted a vehicle traveling along a road linking al-Garrahi and Hays districts of Yemen's western coastal province of Hudaydah.
At least 13,600 people have been killed since the onset of Saudi Arabia's military campaign against Yemen in 2015. Much of the Arabian Peninsula country's infrastructure, including hospitals, schools and factories, has been reduced to rubble due to the war.
The Saudi-led war has also triggered a deadly cholera epidemic across Yemen.
According to the World Health Organization's latest count, the cholera outbreak has killed 2,167 people since the end of April and is suspected to have infected 841,906.
On November 26, the United Nations children's agency (UNICEF) said that more than 11 million children in Yemen were in acute need of aid, stressing that it was estimated that every 10 minutes a child died of a preventable disease there.
Additionally, the UN has described the current level of hunger in Yemen as "unprecedented," emphasizing that 17 million people are now food insecure in the country.
It added that 6.8 million, meaning almost one in four people, do not have enough food and rely entirely on external assistance.
PressTV