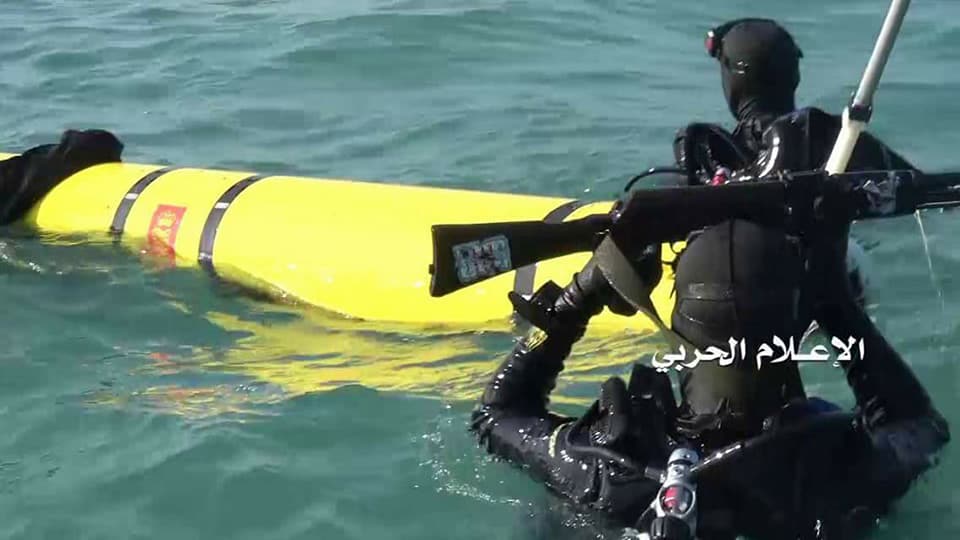 War media distributes scenes of the seizure of an espionage vehicle belonging to the Saudi-led coalition in the Yemeni territorial waters
YemenExtra
Y.A
March 14, 1439 AH, scenes documented the seizure of the naval forces and the coastal defense of a spy guided vehicle from far belonging to the Saudi-led coalition Yemeni's territorial waters.

The Terapid is a self-controlled submarine of the Remus type, which carries out exploratory operations such as mine and shipwrecks exploration, deep sea exploration . It operates several transmission systems via GPS and via Wi-Fi. The submarine operates 24 hours a day,

3 meters at a speed of about 0.833 kph.

This spy vehicle collects all exploratory or military information and sends it to its destination as a ship, a military base or a boat.

The old versions of the submarine were used in the Iraqi war in a number of maritime mine detection missions in 2003 and were used in 2011 to uncover the fate of the Black Box of the French plane that crashed on the flight AF447 belonging to Air France.