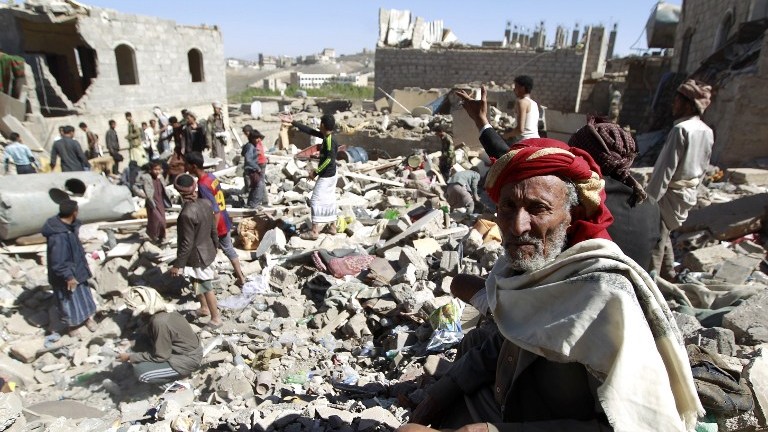 Report: 3 Yemeni civilians killed in over 25 Saudi airstrikes over Friday
YemenExtra
M.A.
Three Yemeni civilians, including a child, were killed and others injured in more than 25 airstrikes launched by the Saudi-led coalition on several Yemeni governorates over Friday, officials and medics reported to YemenExtra on Saturday. 
In Saada governorate, a child was killed and another wounded in airstrikes on Saada city, while two civilians were killed and others injured in an airstrike that targeted a main road in Ghamer district.
To continue with Saada, the warplanes launched an airstrike on Azhur area of Razeh district, an airstrike on Shumaia area of Ghamer district, and five airstrikes on Aal-Ammar and Mahather areas of Suhar district as well as a popular market in Saada city.
In Bagem district of Saada, the fighter jets waged two airstrike on Munabeh area.
Meanwhile, missile and artillery shelling targeted several areas of Razeh district, Ghor area of Ghamer, and the western areas of Munabeh bordering district.
In the Red Sea port city of Hudayda, an airstrike was launched targeting Hais district.
In Jawf governorate, four air strikes hit a civilian's home in Bart-Marasni and reports say that some children sustained serious  injuries.
In Hajja governorate, seven Saudi American airstrikes hitHardh and Medi districts.
In Taiz governorate, central Yemen, the KSA/UAE warplanes launched a strike on Salw district.
In the bordering Saudi governorate of Asir, the fighter jets launched an airstrike on Rabuaa city.