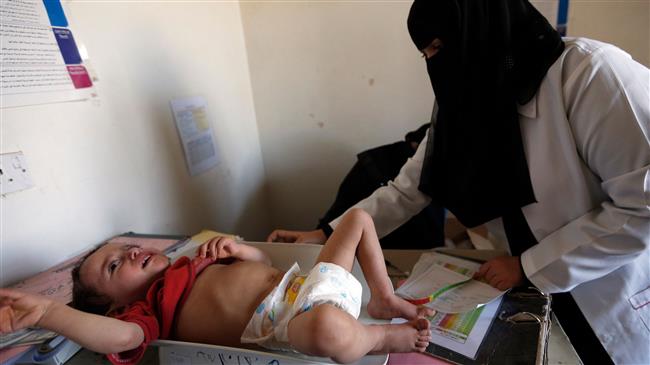 85,000 displaced in 10 weeks as violence rages in Yemen: UN
YemenExtra
Y.A
The United Nations has expressed deep concern over surging violence across Yemen, warning that the worsening situation has pushed some 85,000 people from their homes over the past 10 weeks.
United Nations High Commissioner for Refugees (UNHCR) said on Friday that more than 70 percent of those displaced since December 1 last year had escaped clashes between Houthi Ansarullah fighters and Saudi-backed militiamen loyal to Yemen's resigned president, Abd Rabbuh Mansur Hadi, in Yemen's western coastal provinces of Hudaydah and Ta'izz.
The UN refugee agency also cautioned against the dire condition of displaced people, who are caught in areas close to hostilities in the two provinces.
"Most of those displaced in the governorates of Hudaydah and Ta'izz remain hosted by relatives or friends, trapped inside homes or in caves as ground clashes, aerial bombardment and sniper fire rage around them," UNHCR spokeswoman Cecile Pouilly told reporters in the Swiss city of Geneva.

She noted that the UN is witnessing an upsurge in new displacements from other parts of Yemen, including the northern provinces of al-Jawf and Hajjah, as well as the oil-rich eastern province of Shabwa.

"The main needs of the displaced and other conflict-affected populations continue to be access to shelter, health, food and water and sanitation," Pouilly said.

She warned that Yemen is "seeing a spike in needs, fueled by ongoing conflict, a collapsing economy and diminishing social services and livelihoods."

Last month, the UN appealed for nearly $3 billion (2.45 billion euros) to combat imminent famine as well as cholera and diphtheria outbreaks in Yemen this year.

At least 13,600 people have been killed since the onset of Saudi Arabia's military campaign against Yemen in 2015. Much of the country's infrastructure, including hospitals, schools and factories, has been reduced to rubble due to the war.

The Saudi-led war has also triggered a deadly cholera epidemic across Yemen.

According to the World Health Organization's latest tally, the cholera outbreak has killed 2,167 people since the end of April 2017 and is suspected to have infected 841,906.

In November 2017, the United Nations children's agency, UNICEF, said more than 11 million children in Yemen were in acute need of aid, stressing that it was estimated that every 10 minutes a child died of a preventable disease there.

Additionally, the UN has described the current level of hunger in Yemen as "unprecedented," emphasizing that 17 million people were food insecure in the country.

The world body says that 6.8 million, meaning almost one in four people, do not have enough food and rely entirely on external assistance.

Source: Website