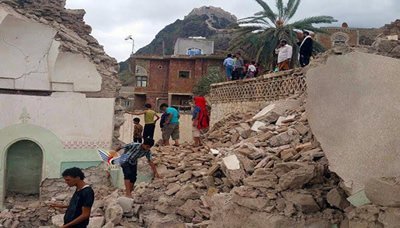 Report: 51 Saudi air strikes rock Yemen over 24 hours
YemenExtra
M.A.
The Saudi-led coalition warplanes have waged more than 51 strikes on several governorates in Yemen during the past 24 hours, according to summarized reports on Sunday. 
In Saada governorate, three civilians' cars were demolished in an air strike that targeted Aal-Ali area in Razeh bordering district.
To continue with Saada, the US-backed warplanes conducted six strikes on Dhahir district, four air strikes on Taibah-Asm and Faraa areas in Kutaf district, as well as 19 airstrikes targeting Mudaba and Thaban areas in Baqem district and on Majaza of Asir.
Meanwhile, Saudi artillery and missile forces shelled several areas of Razeh district and the areas of Aal-Shaikh and Aal-Muqnea based in Munabeh district, killing dozens of sheep.
In the Red Sea port city of Hudayda, the fighter jets launched a strike on Hudayda airport.
In the governorate of Jawf, five airstrikes rocked Khub-washaaf district.
In Hajjah governorate, the warplanes launched nine strikes on Haradh and Medi districts.
In Sana'a governorate, three airstrikes struck Nehm district.
In the Saudi bordering governorate of Najran, the US-backed warplanes conducted three strikes on Talaa position.