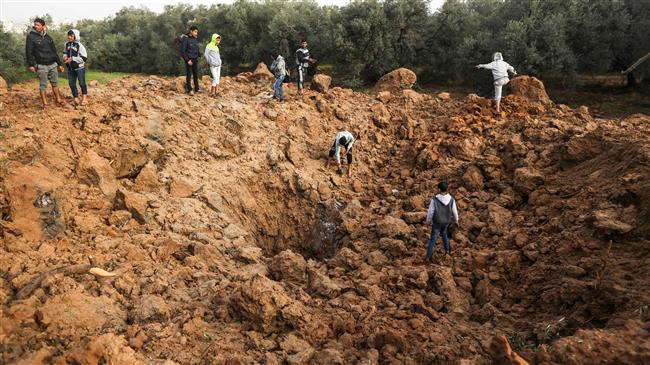 Israel escalates Gaza attacks with new airstrike
YemenExtra
Y.A
Israeli warplanes have bombed areas in the southern part of the besieged Gaza Strip amid escalating tensions in region.
The Israeli military said the regime's fighter jets hit alleged targets belonging to the Hamas resistance movement in Gaza early Monday morning, without elaborating further.
Palestinian security sources said several missiles hit a farmland east of Rafah in the south of the coastal sliver.
The Israeli army said the attack came after a rocket fired from Gaza hit southern Israel on Sunday night.
Israeli "fighter jets targeted underground infrastructure in the southern Gaza Strip, in response to the projectile that was launched at Israel earlier," the statement said.
The incidents reportedly caused no casualties.
Two Palestinian teenage boys were killed in Israeli attacks on the besieged Gaza Strip on Saturday.
Palestinian eye witnesses said the two had been killed east of the city of Rafah after Israel launched a series of airstrikes and mortar attacks on alleged targets belonging to Hamas.
The Saturday assaults came after an explosive device wounded four Israeli soldiers on patrol near the border between the occupied territories and the Palestinian coastal enclave.
The Gaza Strip has been under an Israeli siege since June 2007. The blockade has caused a decline in living standards as well as unprecedented unemployment and poverty.
Tel Aviv has waged three wars on the coastal enclave since 2008, including the 2014 offensive, which left more than 2,200 Palestinians dead.
Israel claims Hamas uses Gaza underground tunnels to stockpile weapons and infiltrate into the occupied lands.
The resistance group, however, says the tunnels are needed to defend Gaza against Israeli attacks and transfer essential supplies, including food and fuel, into the blockaded Palestinian territory.